ARKANSAS Health Insurance
If you are looking Arkansas health insurance for individual and family, plus other low cost health insurance plans in Arkansas- you can try out TrueCoverage. TrueCoverage works with several health insurance companies in Arkansas to offer individual and family health insurance plans. Independent of which category of health insurance you will require, individual or group, you can meet our expert agents to find what combination of plans will suit you best.
For those who wish to buy private health insurance plan in Arkansas, there is health insurance marketplace in Arkansas that provides all the information and service readily. The exchange is the best place for you to shop your choicest combination of health coverage in Arkansas. Here you will get detailed information about various subsidies like; Medicaid, Medicare, CHIP, HMO, PPO, Indemnity, etc.
How can I buy individual and family health insurance plan in Arkansas
The following conditions are mandatory for you to be eligible for individual and family health insurance plan:
You are self employed
Your employer does not provide a employer-based health insurance plan in Arkansas
Your employer-based health insurance plan in Arkansas doesn't cover your dependents or spouses
Your health insurance premiums are high and unaffordable
You are enrolled and the benefits you provided have changed
Before ACA got implemented, health insurance status in Arkansas was a huge chaos with very high rate in uninsured within the state. Only after ACA got implemented and CHIP and Medicaid was extended, there seems some reduction in the number of uninsured in Arkansas.
Arkansas Health insurance statistics
The current statistics on status of health insurance coverage in New Jersey stands at:
Uninsured citizen:

 

17.01%
HMO enrollees:

 

84,819
Average

 

premium per individual in employee-sponsored

 

coverage:

 

$781
Cost

 

for each

 

inpatient/day:

 

$1,353
Affordable Health Insurance Arkansas
In an event where you require health insurance plan for both you and your spouse, it is better you look at quotes on health insurance together and separately. It also matters which health insurance company in Arkansas you plan to buy from. Your affordable health insurance in Arkansas will work best if you can calculate what is the premium to be paid for your family's youngest member (for individual and family coverage in healthcare). If you and your spouse have a huge age difference, you may save a lot of money by applying on the same plan.
Arkansas Health Insurance ratings
According to the ratings given by Commonwealth Fund 2015, Arkansas ranks 49th among the 50 states of USA. The rating has been done on the basis of access to medical care, preventive care and treatment, costs involved in hospitalization, etc. The state ranks 13th in terms of uninsured children who got insured. All the coverage provided seems hasn't translated into medical care. In it's health insurance evaluation for 2014, Arkansas scored 50th. A lot has to be done to improve the health care condition of Arkansas. Raise public funding towards medical care, create more awareness about the health insurance benefits to its people.
The state is looking to bring higher transparency into in medical health care. Insurance providers have been directed to be extremely fair with their pricing, prohibiting price discrepancies between different insurers. All this came into effect from 2014.
Health insurance plans in Arkansas
It can get really confusing to combine health insurance plans as making the right mix isn't easy. There are a host of health insurance plans, Arkansas people will need to pick from. TrueCoverage can ease your trouble by understanding your requirements and abilities and then providing the right match. The attempt would be to reduce the monthly premiums to the least possible value and providing as many subsidies and other facilities within your package. The following plans are available with health insurance in Arkansas:
Vision Insurance in Arkansas
HMO health plans in Arkansas
Indemnity plans in Arkansas
Medicaid plans in Arkansas
Dental plans in Arkansas
Medicare plans in Arkansas
PPO health plans in Arkansas
POS health plans in Arkansas
BCBS in Arkansas
HSA health plans in Arkansas
Health insurance companies in Arkansas
As every citizen of Arkansas needs health insurance plans, TrueCoverage offers affordable Arkansas health insurance plans for individuals, families and small businesses from the following leading carriers:
Arkansas Blue Cross Blue Shield
Ambetter
QualChoice
QCA Health Plan
Come to TrueCoverage and
Arkansas State Stats
Arkansas (33° N to 36° 30′ N and 89° 41′ W to 94° 42′ W) is located down South and is surrounded by Tennessee, Mississippi, Luisiana, Oklahoma, Missouri. The state is ranked 27th most fast growing state with a total area of 137,733 sq km. It's total population is 2,808,852 and has a household income of $40,531.
Arkansas Health Insurance Coverage: Total Population
Employer:

 

44%
Non-Group:

 

7%
Medicaid:

 

22%
Medicare:

 

16%
Other Public:

 

2%
Uninsured:

 

9%
(Source: Kaiser Family Foundation Survey, 2014)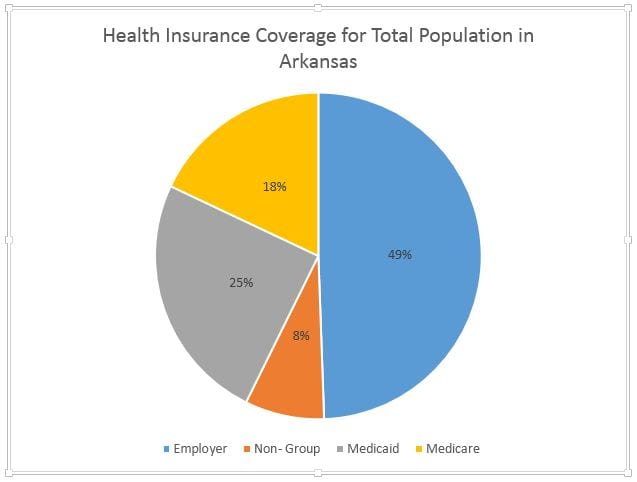 Percent Change in Uninsured Rate: Age-wise, 2013-2014
Children 0-18:

 

6% reduction
Adults 19-64:

 

13% Reduction
Enrollees Receiving Financial Assistance at Exchanges as part of the Subsidy-Eligible group as of June 30, 2015
Total

 

Enrollees

 

receiving

 

Financial Assistance:

 

56,843
Estimated Number of

 

Potential Marketplace Enrollees Eligible

 

for

 

Financial Assistance: 128,000
Percent of the Potential

 

Subsidy-Eligible Population Enrolled: 45%
Shop, compare and enroll in Subsidized ACA plans In Arkansas
Call 1-888-505-1815 TrueCoverage Subsidy Hotline We give you free estimate for the eligible health insurance Arkansas subsidies in health plan:
Looking to find affordable health insurance?
Click on the button below to compare the plans.