Arkansas Health Insurance
The Affordable Care Act (ACA) has impacted some states more than others. According to a 2014 Gallup Poll, the state saw the largest reduction in percentage uninsured from 2013 to 2014 when Obamacare's key provisions to affect.
Arkansas has struggled with its Health status, being the second worst state in terms of health in 2007, but things are improving and Arkansas has begun to pick up in America's Health Rankings.
Despite having its public health funding reduced, Arkansas is still is among the top 25 states with the most Public Health funding. This, better than average, public health funding and the increased numbers of Arkansas residents with Health Insurance coverage, are two of the key factors that will help Arkansas raise its Health status. Work on its Preventative Health will also be an important factor in allowing the state to raise its healthiness.
Arkansans who buy their own health insurance have a variety of coverage options.  They can shop for plans through the state-based exchange or in the private insurance marketplace, and those who qualify can enrol in Medicaid and CHIP.
State Health Care Options in Arkansas
Individuals and families living in Arkansas who want to take advantage of premium tax credits and cost-sharing subsidies must shop for and enrol in coverage through Arkansas' Health Insurance Marketplace.
Only marketplace plans are eligible for income-based premium tax credits and cost sharing subsidies, Arkansas is among the states that have expanded its Medicaid program to single, low income adults.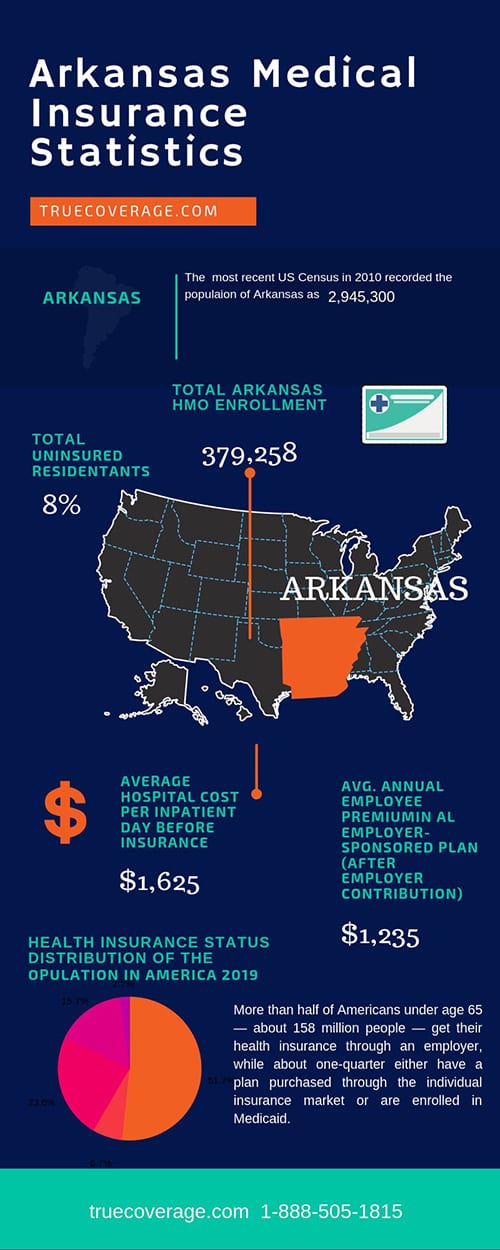 Arkansas – Finding Health Care
Finding the right Health Insurance can be complex but marketplaces (Health exchanges) such as TrueCoverage have specialist health insurance consultants that will search for the best value plan to meet your needs.  Combining technology with market awareness we can supply a choice of plans, in an easily assessible format, quickly. Talk to our health insurance experts
Learn more about the Affordable Care Act, Medicare and Employer Plans here;
Affordable Care Act (ACA) Arkansas
The Patient Protection and Affordable Care Act, often shortened to the Affordable Care Act or nicknamed Obamacare, is a United States federal statute enacted by the 111th United States Congress and signed into law by President Barack Obama on March 23, 2010. Together with the Health Care and Education Reconciliation Act of 2010 amendment, it represents the U.S. healthcare system's most significant regulatory overhaul and expansion of coverage since the passage of Medicare and Medicaid in 1965.
The Affordable Care Act (ACA) was designed to give both individuals and families increased access to affordable health insurance options including medical, dental, vision and other types of health insurance that may not be available either sourced individually or through an employer. Under the ACA;
You may be able to purchase health care through a state or federal marketplace that offers a choice of plans.
Insurers cannot refuse coverage based on gender or a pre-existing condition.
Lifetime and annual limits on coverage are eliminated.
Young adults can stay on their family's insurance plan until the age of 26. 

(

Turning 26? Time to get your health insurance

)

Seniors who hit the Medicare Prescription Drug Plan coverage gap can get discounts on medications.
The rules for ACA are complicated but our experts at TrueCoverage will help you navigate them to identify any subsidy which you may be entitled to.
Medicare
Medicare is a national health insurance program which launched in 1966 under the Social Security Administration (SSA) and is now administered by the Centre's for Medicate and Medicaid Services (CMS).
Medicare provides health insurance for Americans aged 65 or older, younger people with some disability status as well as people with end stage renal disease and amyotrophic lateral sclerosis.
In 2018, Medicare provided health insurance for over 59.9 million people. On average, Medicare covers about half of healthcare expenses of those enrolled and according to the annual Medicare Trustees reports and research by the Government's MedPAC group individuals enrolled in the scheme almost always cover remaining out-of-pocket costs with additional private insurance by joining a public Medicare Health Plan.
Medicare Advantage Plans are Medicare approved plans offered by private insurance companies designed to build on the provisions of the Federal Health Insurance Plan (parts A&B) and allow an individual to tailor an insurance plan to suit their individual needs.
Employer Plans
In Arkansas, of the subtypes of health insurance coverage, employer-based insurance is the most common covering 46% of the population.
Group Health Insurance offers the same benefits as individual and family plans, usually at lower cost and generally without the need for medical examinations. An Employer can choose to share the premiums with employees and will not pay tax on the business contribution. There may be tax advantages for both employer and employees.
As with individual plans there is a choice of managed care plans which meet the Essential Health Benefits Requirements and can be chosen to satisfy the specific business requirements.
The Best Health Insurance Companies in Arkansas
In 2016 NCQA rated more than 1,000 health insurance plans based on clinical quality, membership satisfaction and NCQA Accreditation Survey Results. The following 4 rated the highest in Arkansas
You can learn more about health care coverage and buy Health Insurance in Arkansas  at  TrueCoverage.com or call 1-888-505-1815 We offer free customer service and support around the clock, helping you to understand the complex, ever changing American healthcare system in simple terms and giving you the tools and resources to purchase the right plans at the best price.
Looking to find affordable health insurance?
Click on the button below to compare the plans.