African Americans make up the second-largest ethnic group in the US population. Just over 13% of Americans define themselves as members of this group. When it comes to health care, African American health disparities are striking.
There are significant differences in the levels of health coverage between the two largest ethnic groups!
Who has health insurance coverage?
US POPULATION By ETHNIC GROUPING
| | | | | | |
| --- | --- | --- | --- | --- | --- |
| ETHNIC GROUP | NUMBER MILLION | POPULATION % | INSURED % | UNINSURED % | NUMBER UNINSURED MILLION |
| TOTAL | 329 | 100 | 86 | 14 | 44.96 |
| WHITES | 263 | 80 | 88 | 12 | 31.56 |
| BLACKS | 43 | 13 | 79 | 21 | 9.03 |
| OTHER* | 23 | 7 | 81 | 19 | 4.37 |
*OTHER INCLUDES AMERICAN INDIANS, ALASKAN NATIVES, ASIAN AMERICANS, NATIVE HAWAIIAN OR OTHER PACIFIC ISLANDERS: Drawn from U.S. Census Bureau
These numbers illustrate the fact that among the major ethnic groups in the US, the African-American or Black population has the highest number and percentage of individuals without Health insurance coverage.
Significantly, the differences between blacks and whites are clear on almost every metric of health comparison.
There is evidence that these differences are lessening: for example*
African American life expectancy is increasing
Rates of death from cancer in comparable groups are decreasing
Infant mortality rates have dropped by twenty percent in the last two decades
*Centres for Disease Control and Prevention
Despite these broad markers of progress
African-American men and women continue to be more likely to suffer from
Obesity
Diabetes
cardiovascular disease (strokes/high blood pressure)
some cancers, e.g. breast, lung, and colon
End-stage renal disease
But Why
The underlying causes of the African American health disparities have been linked to genetics, lack of economic resources, limited access to health care, delay in treatment, and cultural influences, belief systems.
We can group these disparities into four broad groups:
Genetic susceptibility to chronic(long-term) conditions
Late identification/treatment of infection or terminal disease
Economic factors (broadly associated with household income) and lifestyle choices.
Genetic Susceptibility
The evidence suggests that throughout their lives African Americans are more at risk of living with diseases usually associated, with older age-groups.

Late identification
African Americans, as a group, are likely to die earlier than an equivalent group of white Americans. The evidence is not conclusive but it is clear that early identification and treatment is a significant factor in extending life expectancy.


Economic/lifestyle influences
In most community groupings it is difficult to distinguish between the relative influence of societal and economic forces.
So, it is important to consider the statistics as a whole
Economic


Social

Whichever way we balance the effect of these influences, the overall outcome is that a significant section of American society is disadvantaged both in the exposures to health issues and to their diagnosis, care, and treatment. African Americans are more likely to die at early ages (from all causes)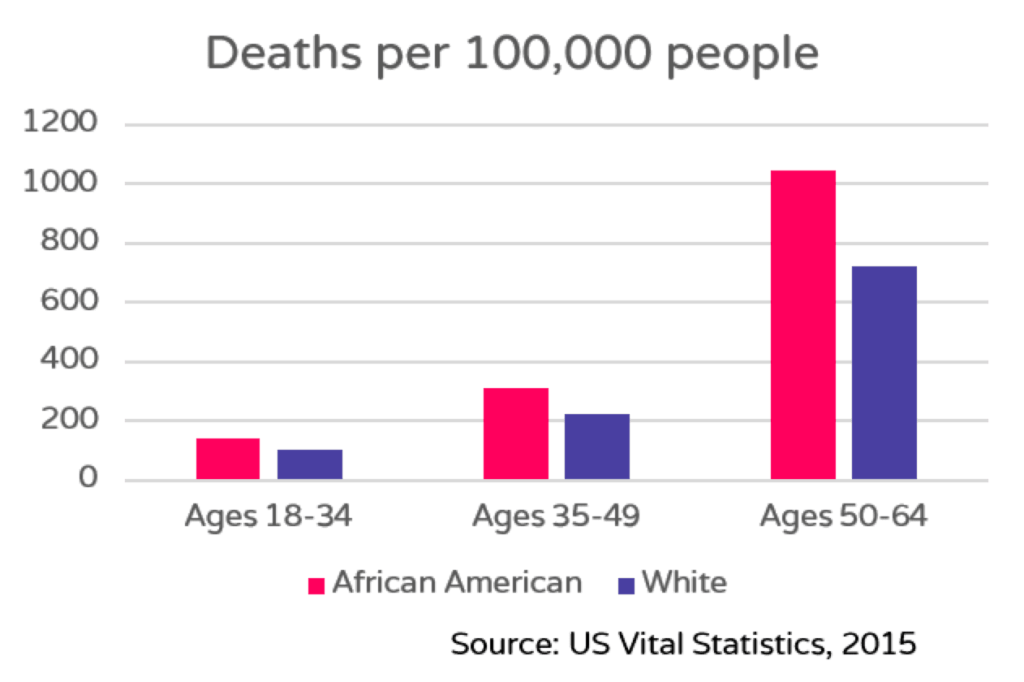 The leading causes of death in the US population are
Heart disease
Cancer
Stroke
Since the year 2000, the death rates for all US citizens over 65 has fallen for each cause.
Heart Disease
Most noticeably it has fallen faster in the African American community (43%) with white Americans (38%) and
Cancer
Although the fall in death in death rate (29%) is not so marked the comparison with the comparable white American group is a significant (20%)
Stroke
In the same period death from stroke occurring at 65 0r older lessened by 41% across the whole population
Where should I go from here?
The Affordable Care Act (ACA) is designed to give all American citizens access to preventative assessment and 'affordable' care.
The Affordable Care Act (ACA or Obamacare) is designed to improve your
Choice of affordable health insurance coverage
Your access to primary care
And, deliver the ten essential health benefits (EHB)
For the African American community, the most important of these are
Maternity and newborn care
Preventative screening e.g. breast and prostate cancers
Pediatric services (care provided for infants and children including recommended vaccines and immunizations
To be uninsured may mean delaying diagnosis or other necessary health care services.
The evidence suggests that African Americans present and are diagnosed at more advanced disease stages, which in turn affects rates of successful treatment.
Nearly half (46 percent) of non-elderly black adults i.e. aged under 65, who do not have insurance report having one or more chronic (long term) health condition.
The preventative provisions of the ACA may be free! but you must enroll to gain the benefit.
Open enrollment runs from November 1st to December 15th but doesn't wait! Contact our insurance experts to know more.
Start now by contacting a Health Insurance Exchange, it can be your state exchange or a private exchange. Both, offer a FREE service to provide a 'best value' policy to meet your needs and the needs of your dependents. Read article on healthcare equipment rentals.