How to select the health insurance category aka the metal tier that is right for you.
Before you do anything else…PLAN
To get the best value from your health insurance it is important to build on what has happened in the past and consider what may happen in the foreseeable future.
Of course, it is not an exact science but typical events might include,
births and deaths among your dependents
accidents or short-term illnesses
chronic (long-term) illnesses
potential need for hospital visits or homecare
regular need for visit to your doctor
extended need for prescription drugs
Don't make a list! Draw a diagram!
Like this, for example, which helps to put your expenses into categories and plan the way you design your health insurance.
Collect Your Thoughts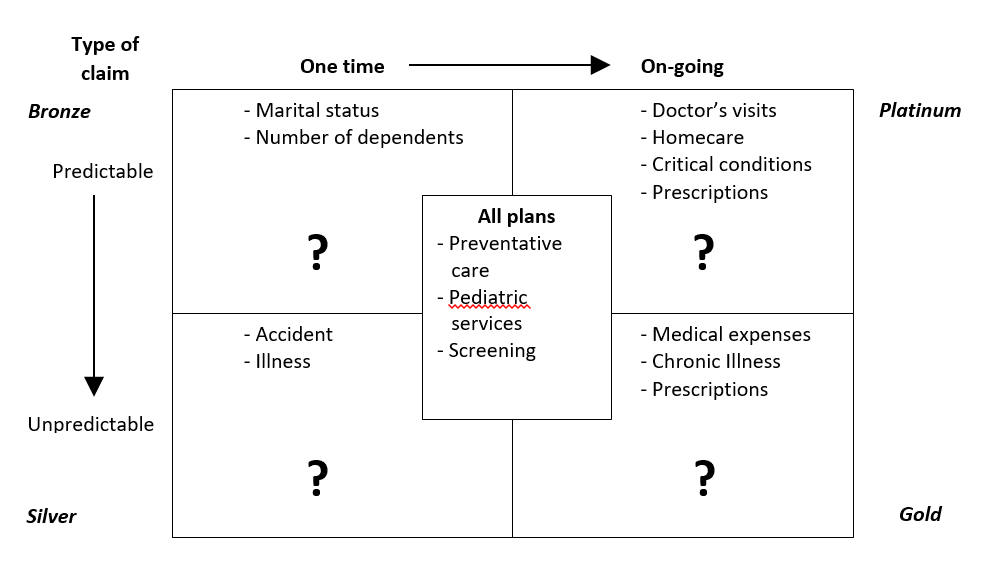 Organising your experiences and concerns in this way can be very helpful when discussing with your advisor the plans that match your needs.
The 'Metal' Categories
There are literally thousands of health insurance plans in the marketplace. To help you decide which is best for you and your dependents they are divided into four categories.
It sounds like the Olympics, best, second best etc. Well it isn't. It is simply a way of describing your choices about how you can best protect and provide for yourself and your dependents from the financial effects of an accident or illness.
All plans offer the ten essential benefit categories and the ACA benefits. The difference between the categories is how you choose to share the medical and care costs arising from illness or accident.
In broad terms the metal tiers indicate the way in which these costs will be shared:

Bronze Plans work well for people who don't  expect to use medical services very often. The monthly premiums may be low but you will pay more for medical services if you need them. Particularly good for the young and very healthy, if buying a family plan – your children are elementary-school age or older, very healthy, and do not participate in risky sports or activities.
Silver Plans have higher monthly premiums but generally lower deductibles so your insurer takes more of the risk. PLUS, at certain income levels you may qualify for 'cost sharing' reductions.  When you apply to your chosen health insurance exchange you will be informed if you qualify.
Silver plans are the most popular and often qualify for premium tax crfedits and insurance subsidies. This is best for healthy families requring minimal medication and specialist visits without frequent care.
Gold Plans have higher monthly premiums but pay a higher share of costs if you need extended care or expect regular doctor visits or need regular prescription medication. Gold plans can still often qualify for insurance subsidies. These plans are good for families with young children or older adults, requiring more frequent doctor visits.
Platinum Plans are best for the elderly and those with chronic conditions taking several medications.
You may be choosing a Federal, State, or Private exchange but only a Private exchange can factor in the non-medical expenses e.g. loss of income and the value of insured Vision and Dental, emergency, and preventative treatment to give you the best value from your choices.
Quick Note: Not every insurance company offers all of the metal tiers in every state and region.  At a minimum, if they provide health insurance in your area, at the very minimum, they will offer the Silver and Gold tier plans.
'Total costs for healthcare'
Perhaps the first thing to consider is what you would have to pay for your or your dependents medical care if you or they suffer from an illness or injuries in an accident if you have no insurance?
The cost of preventative routines can be a significant factor. In particular there are costs associated with
the developmental assessment and care for children
pre and postnatal care for women
prescription charges for continuing conditions.
Where would the money come from?
Income, savings, a loan? All of which would have been funds earmarked for other reasons. Worst of all it may you that is incapacitated* and unable to work!
The straightforward answer is health insurance. Health insurance that helps with the day to day costs of medicines, prescriptions, medical care and residential care, whether at home or in hospital.
The health insurance marketplace, either a Government or Private health exchange, will offer health insurance plans that guarantee the preventative care and specific services defined in the ACA and qualify you for the additional benefits and subsidies according to the level of service you choose.
BUT who pays and how are the costs shared?
There are three elements.
Your monthly premium
This is determined by your location, age and family circumstances. (this covers the cost of your preventative care and the services underwritten by the ACA)
This is the amount you need to pay for additional services before your insurance kicks in.
Co-payments and coinsurance
If your payments for medical and healthcare services go over the agreed 'deductibles' limit you will pay only proportion of the costs. This will be fixed amount of the bill (co-payment) or a percentage (coinsurance).
Your insurer will meet their share of these costs based either on fixed (co-payment) or percentage share(co-insurance) terms.
Out of pocket! What is it?
As described above, these are the amounts you have to pay in addition to your monthly premium (your preventative services are paid for in your premium) i.e. your deductible + co-insurance/copay amounts.
Is there a maximum 'out of pocket' limit?
Yes, there is a maximum. This set by the Federal Government each year. It applies to all the 'metal tiers''
All your approved medical expenses beyond this level are paid by your insurers.
For 2020 the out of pocket maximum for individuals with self only coverage is
The maximum for those enrolled in family coverage is
Note: the plan must have an imbedded individual out of pocket maximum that cannot exceed $8150.