Recent News about Health Insurance Tennessee
The individual and family health insurance marketplace of Tennessee has newer and narrower choices for its enrollees. In 2017, Tennessee's health insurance scenario is guided by who comes in the network and who is going out.
Blue Cross Blue Shield Tennessee (BCBST) has opted to come out from Nashville, Memphis and Knoxville just a month before Open Enrollment
Humana too has decided to stop offering individual and family health insurance to Tennessee.With BCBST moving out of the health insurance individual marketplace, only Humana and Cigna were left on the exchange. Both of them are, however, very small players in the Tennessee healthcare marketplace.And as Humana too is leaving, it brings in lots of uncertainties in the exchange as far as individual and family medical coverage is concerned. There are 16 counties of Tennessee where Humana is the sole health insurance provider. Customers who cannot opt for group health insurance plans are in serious thought now.If Trump government does not intervene, chances are- more such insurance agencies may decide they won't offer individual health insurance plans in 2018.
Health insurance plans in Tennessee
When the Open Enrollment 2017 started, Kaiser Family Foundation estimated that around 645,000 people from Tennessee could use the health insurance marketplace and choose their healthcare plans. About 387,000 of these Tennessee people will be eligible for huge subsidies.
In 2014, after first Open Enrollment term ended, 151,352 people had selected their choicest plans with the Tennessee exchange. Some 78% of them got subsidies to reduce their premiums. As of today, health insurance marketplace of Tennessee plans are providing financial assistance to its enrollees.
Health insurance plans available in Tennessee are:
Metallic medical insurance plans (bronze, silver, gold, and platinum), HMO, PPO, Indemnity, HAS, Dental, Vision, CHIP, SHOP, Individual and Family, Group health insurance plans
Health Insurance Companies in Tennessee
Any health insurance plan works within a network of doctors, hospitals, clinics, along with other health service providers you may visit at affordable costs. To avail maximum coverage for any medical care service, you will visit providers of health care within your network. The following companies are working out of Tennessee now:
Humana
Golden Rule Insurance Company
IHC group
Aetna
Cigna
Tennessee State Health Insurance Statistics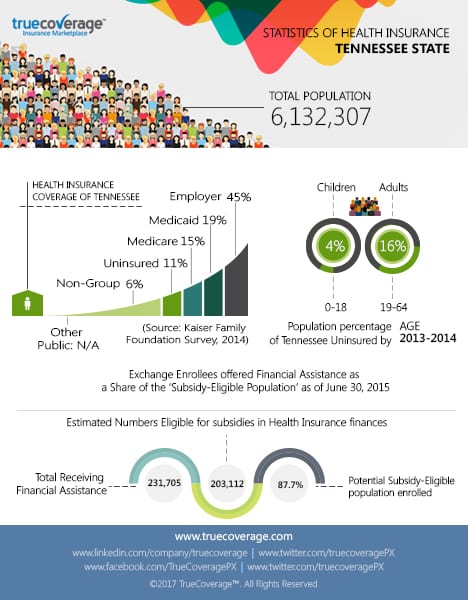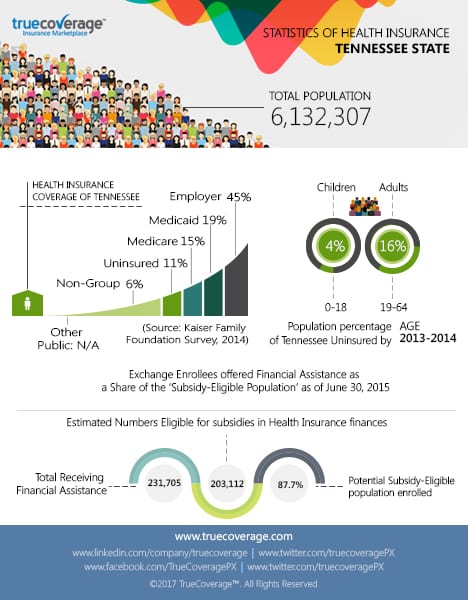 Total population: 6,132,307
Health Insurance Coverage of Tennessee
Employer:

 

45%
Non-Group:

 

6%
Medicaid:

 

19%
Medicare:

 

15%
Other Public:

 

N/A
Uninsured:

 

11%
(Source: Kaiser Family Foundation Survey, 2014)
Population percentage of Tennessee Uninsured by Age, 2013-2014
Children 0-18:

 

4%
Adults 19-64:

 

16%
Exchange Enrollees offered Financial Assistance as a Share of the 'Subsidy-Eligible Population' as of June 30, 2015
Total Receiving Financial Assistance:

 

231,705
Estimated Numbers Eligible for subsidies in Health Insurance finances:

 

203,112
Potential Subsidy-Eligible population enrolled:

 

87.7%
Why come to TrueCoverage?
With TrueCoverage you can:
Need to communicate with licensed Health Insurance advisers in Tennessee? Call 1-888-505-1815 A TrueCoverage Subsidy Hotline to get free estimate for the eligible health plan subsidy:
Looking to find affordable health insurance?
Click on the button below to compare the plans.