Texas Health Insurance

Affordable TX health insurance options
Texans, Open Enrollment is here, and it is time to research for your affordable (or even FREE!) Texas (TX) health insurance options for next year! 
Due to the COVID-19 pandemic, Affordable Care Act (ACA) subsidies (premium tax credits) were expanded with many of those expansions likely to become permanent within the next year, so now the ACA offers free or heavily discounted health insurance plans to more middle-class folks in Texas than ever before!
TrueCoverage provides helpful resources and guidance for selecting cheap health insurance in Texas that meets your specific needs. Remember, the ACA Open Enrollment Period is a short temporary window during which ANYONE can apply for FREE or low-cost health insurance; unless you meet certain specifications to qualify for a Special Enrollment Period later on during the year.
Our easy-to-use search engine combs the U.S. Health Insurance Marketplace to help you select the best Texas Health Insurance coverage to save yourself last-minute headaches. Select from many of the top TX health insurers, such as Blue Cross and Blue Shield of Texas (BCBSTX), Scott and White, Christus, and Cigna.
The TrueCoverage team is here to help folks in Texas by providing preregistration services and finding out the amount of your premium tax credit (health insurance subsidy). TrueCoverage is the health insurance expert for TX residents and will aid you in finding with health coverage packages tailored to cost-sharing reductions for you, your family, or your small business.
Or, if you are more than 65 years old or fast approaching it, TrueCoverage also assists people in Texas in finding the best Medicare Supplements or switching to a Medicare Advantage plan.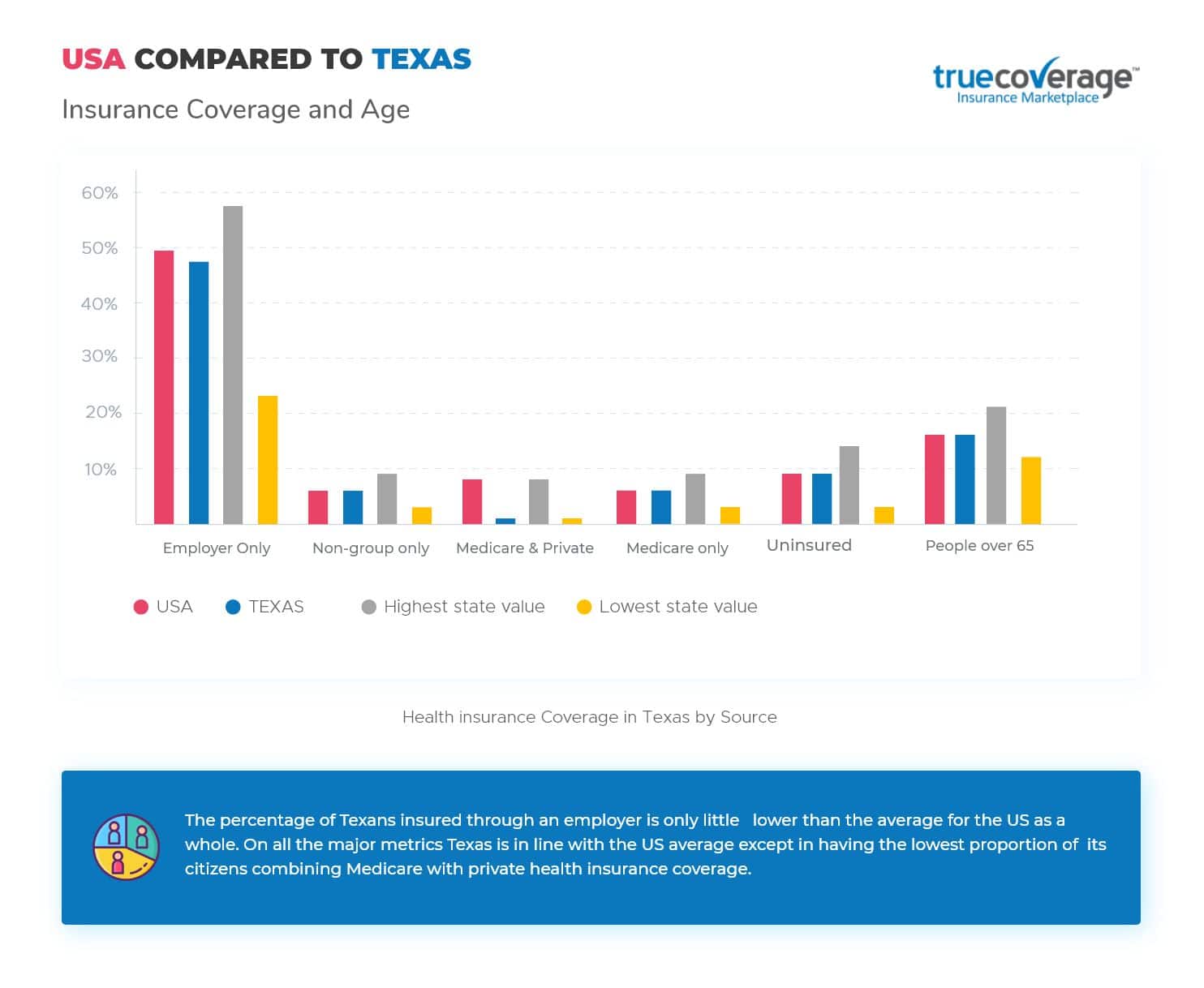 Exploring Affordable Health Insurance in Texas
When looking for the cheapest health insurance in Texas, the first thing you should understand is that policies with the lowest monthly payments (i.e., your monthly insurance premium) might not necessarily be your cheapest or best option in the long run. Texas Health Insurance is more expensive than in most other states and is likely to rise again in 2022. So, it is even more critical to make sure you're getting the best health insurance advice in TX from TrueCoverage.
The REAL total price of your TX health coverage depends on many variables. Deductibles, co-insurance, and copays increase costs, while discounts such as an insurance subsidy can LOWER your medical expenses. When choosing an ACA plan, every health insurance policy is given a metal tier ranking to assist in choosing the Texas health insurance plan that is right for you.
The TX Health Insurance Marketplace offers cost-sharing reductions (CSR) that are "extra savings" opportunities; discounts that lower the total amount you pay for health insurance deductibles, copayments, and coinsurance.
You can use your premium tax credit for ANY plan in the Metal Tier category. But the Silver plans in Texas are the ONLY plans that receive these "extra savings." Those using CSRs will also have a lower annual out-of-pocket maximum.  After you reach your out-of-pocket maximum, your insurer covers 100 percent of the covered services.
Key Details About Health Insurance in Texas
Exploring the Texas Health Insurance Marketplace
Texas residents can sign up for health insurance using private insurance exchanges. These marketplaces offer a wider variety of TX ACA-compliant health insurance plans.
Through Health Insurance Exchanges like TrueCoverage, Texans can access even more ancillary insurance options like:
Dental
Vision
Accidental Death
Critical Illness
Disability
Life
Medicare Advantage
Medicare Supplemental
And more!
Benefits of Working with a Texas Health Insurance Broker
TrueCoverage is a Certified Enhanced Direct-Enrollment (EDE) Partner of Healthcare.gov, TrueCoverage offers more health insurance plans than any other insurance resource in TX, and our unique technology quickly delivers the best value insurance policies that address your needs.
Like brokers in every state, TrueCoverage operates in TX without bias. Our job is to find you the best health insurance options, regardless of the insurance carrier. Our brokers search for health insurance policies that best meet the needs of Texans. TrueCoverage is there for you throughout your health insurance contract. For example, if a dispute arises with your insurer, TrueCoverage steps in to help.  
TrueCoverage is familiar with Texas' unique insurance rules, and we understand the Texas health insurance options from the largest carriers down to the smaller specialty health insurers.
Looking for cheap or even FREE health insurance in TX?
Shop online quickly and easily, 70 percent of our customers qualify for $0 policies!
Bigger, Most or First. That's Texas!
Unfortunately, Texas leads as the state with the least insurance coverage for those under the age of 65, at just over 20 percent uninsured. That is why TrueCoverage is here for Texans to help find the best affordable health insurance products.
Did You Know?
The Lone Star State of Texas was the only state to be an independent nation, as it was the Republic of Texas from 1836 to 1845.
Source: 50states.com