Dates & Deadlines for 2020 Health Insurance Open Enrollment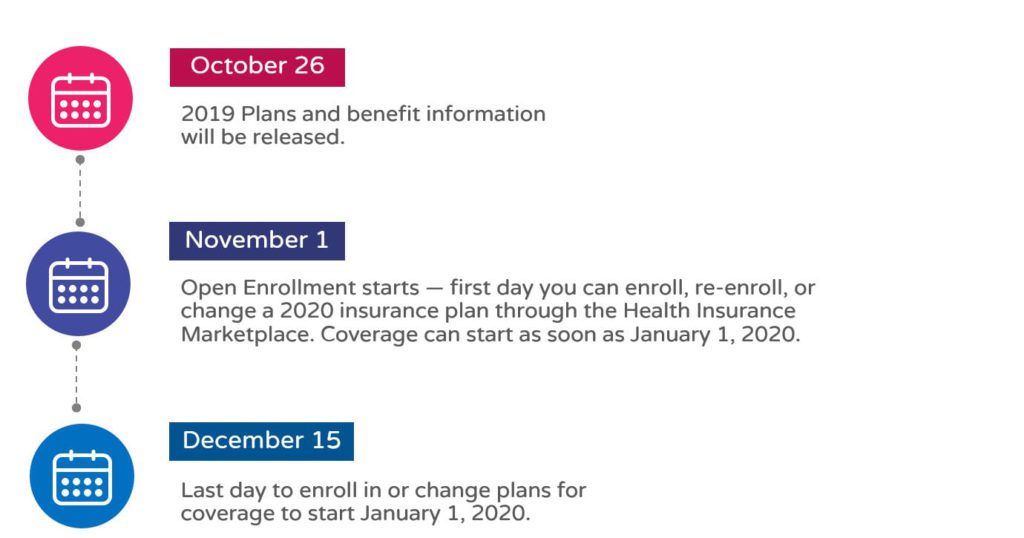 Health insurance open enrollment runs from November 1st to December 15th, for coverage commencing January 1st, 2020.
November 1, 2019: Open Enrollment starts — the first day you can enroll, re-enroll, or change a 2020 insurance plan through the Health Insurance Marketplace. Coverage can start as soon as January 1, 2020.
December 15, 2019: Last day to enroll in or change plans for coverage to start January 1, 2020.
Oct 26, 2019: 2019 Plans and benefits information was released. Start shopping for health plans today!
BUT there are factors you should consider now!
Have there been any changes in the past year that would that affect your coverage? Some examples would be: –

A dependent 'aging out' when they

If you knew then, what you know now, would you choose the same Metal Standard or Network?
November 1st may seem a long way off but now is the time to discuss your needs with health insurance companies; obtain health insurance quotes or contact your chosen exchange.
Of course, there are exceptions. Check with our Special Enrollment Periods blog for the full story.
Photo by Olya Kobruseva from Pexels