One stop destination for all your insurance needs
Select a product below to see your quotes
TrueCoverage is a Certified Direct Enrollment Partner of
Healthcare.gov
(You may be eligible for tax credits and subsidies)
Over
500 

top insurance carriers
Simplifying Insurance
How it
works?
Learn
We have plenty of useful resources to help you deal with the complexities of the insurance market. We describe the purpose of each type of insurance cover to turn buying insurance into a straightforward process, and avoid the use of jargon.
Shop
With over 500 carriers and 40,000+ plan designs, there are plenty of choices to select from. Based on your information we identify the plans which meet your needs, e.g. meet your State requirements and our guided plan advisor walks you through a personalized list of questions helping you to choose the best fit plans for your individual circumstances.
Enroll
Complete your enrolment online OR with help from our licensed and experienced advisors. The service is FREE now and for the duration of your policy.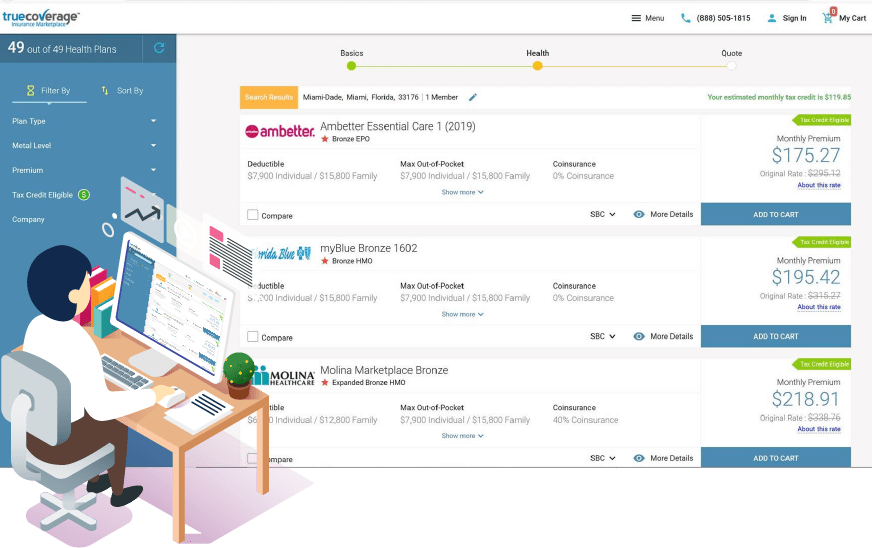 Our Features
Why
Truecoverage?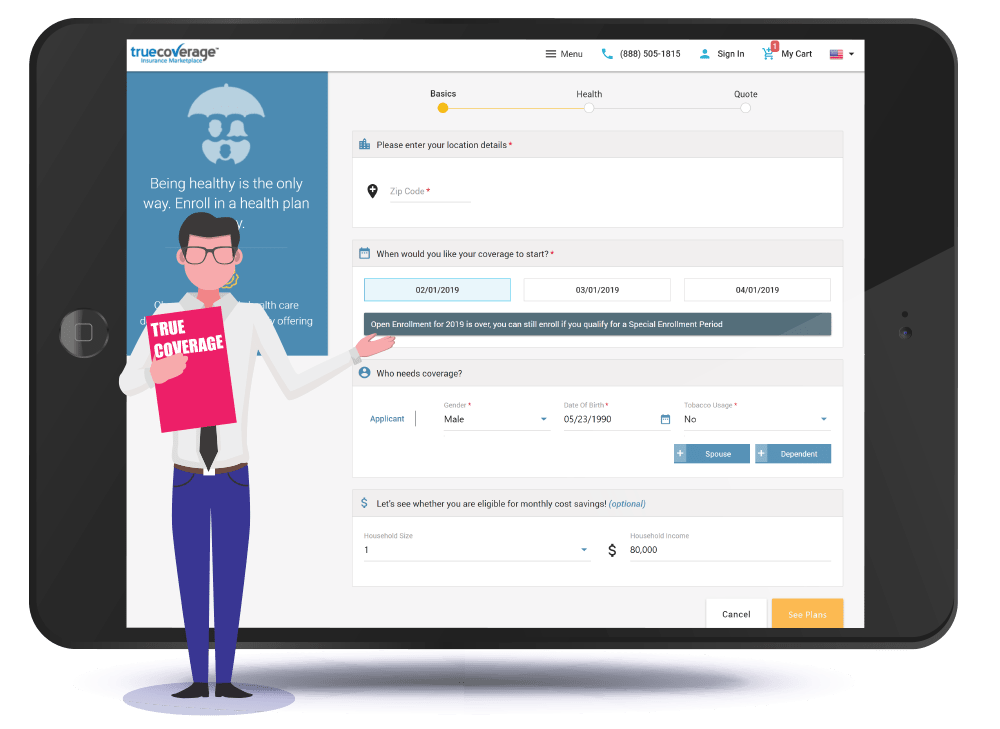 Unbiased Recommendations
We are proud to operate one of the strongest and best trained teams of insurance advisors in the USA. TrueCoverage is not linked to any Insurance Company. All our advice and recommendations are based on your needs.
Customer Service 24*7
Of course, we use clever technology to gather data but our advice is personal. Our licensed insurance agents are available to answer all your questions and you can be sure of a response the same working day. This is a service that lasts throughout the life of your policy
Largest Selections of Health Plans for all insurance
TrueCoverage works with over 500 insurers across all 50 States and with local agents who are totally familiar with the Federal and State legislation. That's TrueCoverage!
One-Stop Shop
TrueCoverage has brought together a team of experts who are able to advise both individuals and companies on their insurance needs. We bring all aspects of Health Insurance (including Dental and Vision), Life Insurance and more under one roof. We can offer Subsidy guidance as well. Truly a one-stop shop.
Simplified Quoting & Enrollment Tools
Online shopping with a personal touch. Just key in a few details, follow the guide. You will receive a selection of competitive quotations tailored to your needs. You can enroll with confidence. Uncertain? Don't worry, it is a big decision. Call us, our licensed insurance agents will provide you with all the guidance you need to shop the right plan.
We've helped over 1 million people find affordable health insurance 
Each customer gets the same quality service.
We are loved
Customer
Reviews
The Top Five Questions People Ask Us
Frequently Asked
Questions
How is TrueCoverage different from other insurance marketplaces?
It is simple. We are good at what we do!
We keep 'up to the minute' details of the insurance options on the market; over 500, 'A' rated insurers across 50 States.
You tell us what you need.
We search the best options for you.
If you texted us, we'll text you back, if you phone, we'll phone, Email, Email, on line, on line.
How does TrueCoverage help to find the right policy?
TrueCoverage is an insurance broker working on your behalf either as an individual or as a business manager to find the 'best value' package of insurances to meet your needs. We do not make decisions on your behalf but we are committed to giving you impartial advice. We can for example give guidance on possible taxation and potential subsidy implications.
Is TrueCoverage affiliated to any insurance companies?
No.
As an independent insurance broker, we are responsible to you for offering advice based on your needs and our knowledge of the marketplace.
How does TrueCoverage make money?
We offer you independent advice. The insurer you choose will pay us the same fee as any other.
Is TrueCoverage licensed?
Yes, in common with all brokers we are licensed in all the States in which we deal.
Let's Get You Some Insurance
Get Your Quote
Now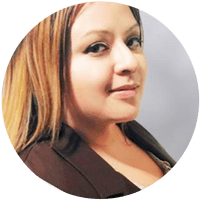 Interesting articles, trends and stories about the insurance industry
Learn
More
Early last month President Trump announced that tests for COVID-19 infection would be included in the ten Essential Health Benefits (EHB) specified in the Affordable Care Act (ACA).
NOW, two major health insurers HUMANA and CIGNA have come forward with an ADDITIONAL commitment to waive out-of-pocket costs for the treatment of patients infected by COVID-19.


We will discuss more about Coronavirus Treatment cost waived off by Humana and Cigna, but before let's let's look at how much it costs to treat COVID-19.
Coronavirus treatment cost
It is too soon for anything but educated guesses. These suggest that the cost of COVID-19 hospitalization and treatment could average over $20,000 per person. For most citizens with health insurance, either individual or group (employer), the average out-of-pocket expense would be $1,300.
The US Centers for Disease Control and Prevention (CDC) projection is for between 2.4 and 21 million citizens to need hospitalization and that a significant proportion of these will need intensive care, e.g. respiratory therapy.
Actual costs will depend on severity and any chronic or underlying conditions. There are anecdotal reports of charges exceeding $34,000.


It is clear that the US, in common with most other countries worldwide, faces a massive threat from COVID-19. This is an easily spread 'flu-like disease for which there is, as yet, no known cure. The World Health Organization (WHO) estimates that 80% of those infected will recover without needing special treatment (see the article on self-isolation during Coronavirus pandemic).
Does Medicare insurance cover Coronavirus?
Those most at risk are 'seniors' and individuals with chronic or underlying pulmonary conditions. With the benefit of Medicare and Medicaid, these are the groups most likely to be covered by health insurance.  Both Medicare and Medicaid are bound by the terms of the 'Families First Coronavirus Response Act'. This act passed by Congress (3/16/20) requires most private health plans to cover coronavirus testing with no cost-sharing.


Medicare and Medicaid have stepped beyond the terms of the act to include COVID-19 treatment with no cost-sharing. They have been joined by Humana and Cigna. It is likely that other health insurers such as Anthem and Aetna will follow suit; there is, however, no federal obligation to do so.
At a time when it is important to slow the spread of the disease, it is critical to maintain 'social distancing' and to facilitate testing and treatment. The actions of these organizations remove the main factor (finance) which deters even insured individuals from accessing tests and treatment.
Read more about: Does Medicare plans cover Coronavirus tests and treatments
Surprise Billing
There is a general agreement that the practice of 'balance billing' (see our article) should be reviewed. IN PARTICULAR Humana and Cigna have indicated that they would resolve issues that arise when service is delivered by an out-of-network provider, especially when the patient is not advised or is unable to make a decision. Humana CEO Bruce Broussard says "we will keep it [a surprise billing dispute] between the provider and the company" [the insurer].
Read our article on healthcare surprise billing
In a further move to: –
Ease the pressure on medical offices
and to
Lessen the need to leave home (social distancing, see our article…)
the major players in the health insurance industry are encouraging the use of TELEMEDICINE and easing pre-authorization requirements.
There are, of course, some limitation
Some large employers run their own (self-insurance)
schemes and may not offer the same EHB nor be bound by the terms of the FFCR act – most companies will adopt these new standards but all members of group schemes should check with their HR dept
The private health insurers' cost waivers are (currently) time gated, namely MAY 30th 2020 (or defined by some term such as 'for the duration of the Coronavirus crisis)
In all cases the actual terms of your plan will vary between insurance companies. You should check with your insurer
IF you have a 'short term' plan it is unlikely to offer you the benefit of these changes. You should: –
Check with your insurer
Discuss your circumstances with a health insurance exchange to determine the best alternatives. You may, for example, qualify for a Special Enrolment Period
COMMENT
The Private Exchanges, such as TrueCoverage obviously regret the circumstances which necessitated these changes.
Clearly, these changes are intended to improve the operation of the market and the service provided to meet immediate, individual client and societal concerns. The changes may be expedient in the short term but, in the longer term it may prove difficult for the 'healthcare industry' to revert to a system which was already coming under criticism.
Much of the cost of these changes is being absorbed by the insurers and, less obviously, by service providers and the pharmaceutical companies.
We must wait to see but we should probably brace ourselves for a root and branch rebalancing of the prices we pay for each element of our healthcare.
The purpose of the 'exchanges' is to ensure that everyone has the opportunity to consider and compare insurance plans that best meet their needs.
Attention
This website is operated by TrueCoverage and is not the Health Insurance MarketplaceSM website. In offering this website, TrueCoverage is required to comply with all applicable federal laws, including the standards established under 45 CFR 155.220 (c) and (d) and standards established under 45 CFR 155.260 to protect the privacy and security of personally identifiable information. This website may not display all data on Qualified Health Plans (QHPs) being offered in your state through the Health Insurance MarketplaceSM website. To see all available data on QHP options in your state, go to the Health Insurance MarketplaceSM website at HealthCare.gov.
Also, you should visit the Health Insurance MarketplaceSM website at HealthCare.gov if:
You want to select a catastrophic health plan.
You want to enroll members of your household in separate QHPs.
The plans offered here don't offer pediatric dental coverage and you want to choose a QHP that covers pediatric dental services or a separate dental plan with pediatric coverage. Pediatric dental services are an essential health benefit.
TrueCoverage offers the opportunity to enroll in either QHPs and off-Marketplace coverage. Please visit HealthCare.gov for information on the benefits of enrolling in a QHP. Off-Marketplace coverage is not eligible for the cost savings offered for coverage through the Marketplaces.
If you'd like assistance in another language please dial 1-888-505-1815
If you are visually impaired, please visit the Federal Marketplace.