ACA Open Enrollment is here!
Shop for affordable health insurance from Nov 1
st
 to Dec 15
th 
2019.
One stop destination for all your insurance needs
Select a product below to see your quotes
TrueCoverage is a Certified Direct Enrollment Partner of
Healthcare.gov
(You may be eligible for tax credits and subsidies)
Over
500 

top insurance carriers
Simplifying Insurance
How it
works?
Learn
We have plenty of useful resources to help you deal with the complexities of the insurance market. We describe the purpose of each type of insurance cover to turn buying insurance into a straightforward process, and avoid the use of jargon.
Shop
With over 500 carriers and 40,000+ plan designs, there are plenty of choices to select from. Based on your information we identify the plans which meet your needs, e.g. meet your State requirements and our guided plan advisor walks you through a personalized list of questions helping you to choose the best fit plans for your individual circumstances.
Enroll
Complete your enrolment online OR with help from our licensed and experienced advisors. The service is FREE now and for the duration of your policy.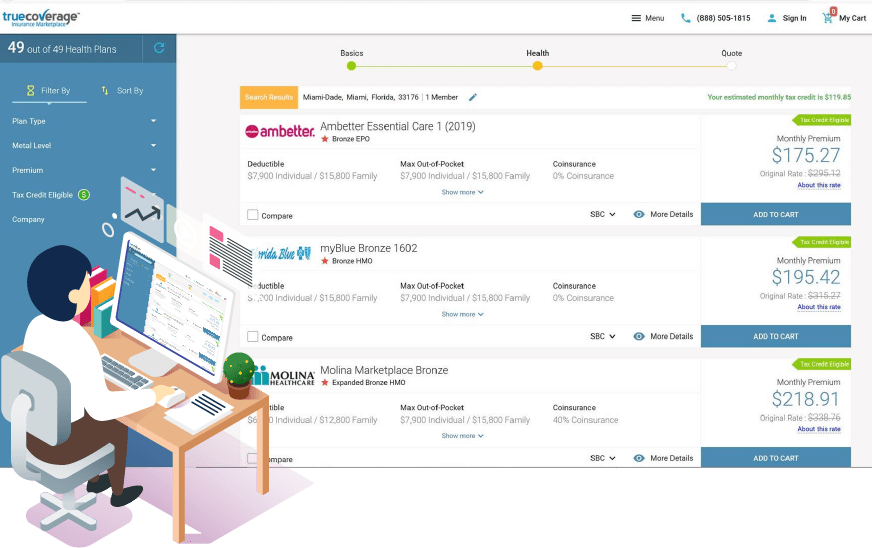 Our Features
Why
Truecoverage?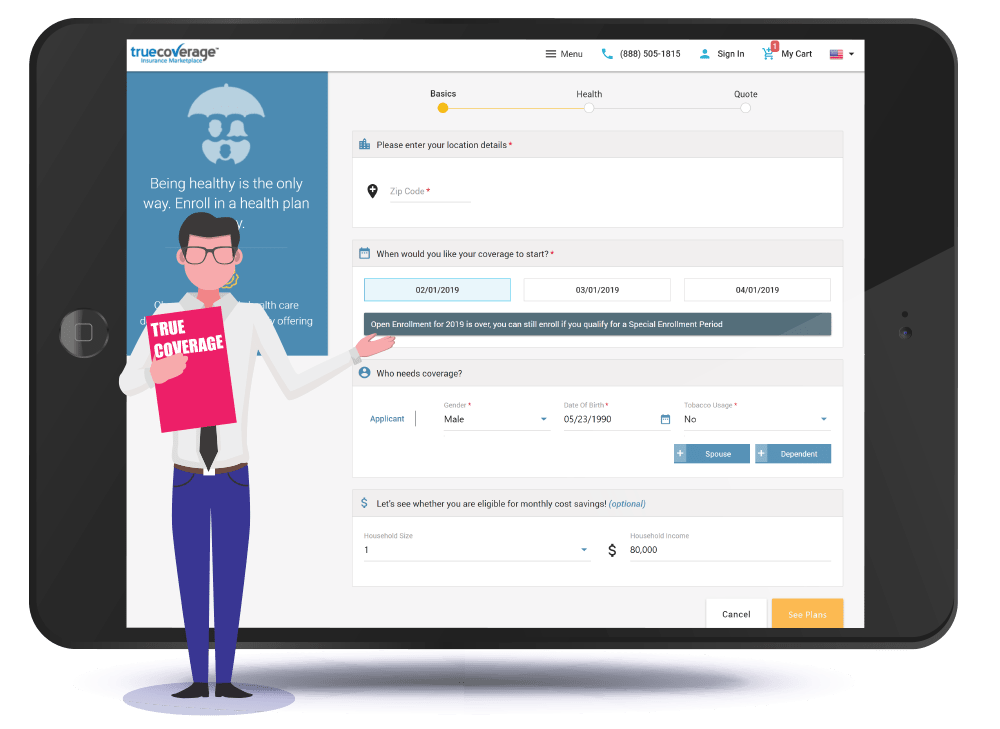 Unbiased Recommendations
We are proud to operate one of the strongest and best trained teams of insurance advisors in the USA. TrueCoverage is not linked to any Insurance Company. All our advice and recommendations are based on your needs.
Customer Service 24*7
Of course, we use clever technology to gather data but our advice is personal. Our licensed insurance agents are available to answer all your questions and you can be sure of a response the same working day. This is a service that lasts throughout the life of your policy
Largest Selections of Health Plans for all insurance
TrueCoverage works with over 500 insurers across all 50 States and with local agents who are totally familiar with the Federal and State legislation. That's TrueCoverage!
One-Stop Shop
TrueCoverage has brought together a team of experts who are able to advise both individuals and companies on their insurance needs. We bring all aspects of Health Insurance (including Dental and Vision), Life Insurance and more under one roof. We can offer Subsidy guidance as well. Truly a one-stop shop.
Simplified Quoting & Enrollment Tools
Online shopping with a personal touch. Just key in a few details, follow the guide. You will receive a selection of competitive quotations tailored to your needs. You can enroll with confidence. Uncertain? Don't worry, it is a big decision. Call us, our licensed insurance agents will provide you with all the guidance you need to shop the right plan.
We've helped over 1 million people find affordable health insurance 
Each customer gets the same quality service.
We are loved
Customer
Reviews
Looking for insurance? Look no further.
We get you quotes from top insurance providers, and present them  in a language you understand.
The Top Five Questions People Ask Us
Frequently Asked
Questions
How is TrueCoverage different from other insurance marketplaces?
It is simple. We are good at what we do!
We keep 'up to the minute' details of the insurance options on the market; over 500, 'A' rated insurers across 50 States.
You tell us what you need.
We search the best options for you.
If you texted us, we'll text you back, if you phone, we'll phone, Email, Email, on line, on line.
How does TrueCoverage help to find the right policy?
TrueCoverage is an insurance broker working on your behalf either as an individual or as a business manager to find the 'best value' package of insurances to meet your needs. We do not make decisions on your behalf but we are committed to giving you impartial advice. We can for example give guidance on possible taxation and potential subsidy implications.
Is TrueCoverage affiliated to any insurance companies?
No.
As an independent insurance broker, we are responsible to you for offering advice based on your needs and our knowledge of the marketplace.
How does TrueCoverage make money?
We offer you independent advice. The insurer you choose will pay us the same fee as any other.
Is TrueCoverage licensed?
Yes, in common with all brokers we are licensed in all the States in which we deal.
Let's Get You Some Insurance
Get Your Quote
Now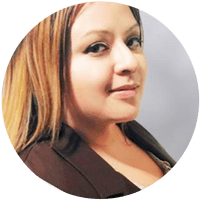 Interesting articles, trends and stories about the insurance industry
Learn
More
Stop right now!
There is no such thing!
We will have to wait until next year to know what you might have done differently.
What we CAN do right NOW is to work together to find the best value health insurance coverage in 2020, for you and your dependents, whether young or senior.
The ACA open enrollment (for most states November 1st to December 15th) is your opportunity to EXPLORE YOUR OPTIONS.
Firstly, let's start with some overall advice.
If your employment offers ACA compliant health insurance as part of your remuneration package, it is generally a good option to accept. BUT
Make sure the terms offered meet your specific needs. E.g. Metal Tier, according to your anticipated need for medical treatment and prescription drugs. If your spouse also has group coverage you should consider which plan is more advantageous. It often pays to split the coverage!
NOW let's consider how you can SAVE MONEY AND provide the lowest cost health insurance that will meet your family circumstances.
Here are 5 things for you to consider.
Shop on a Health Insurance Exchange, Federal, State or Private. Their advice and services are free to you AND by shopping through an exchange you can take advantage of TAX RELIEF on your monthly premiums and Cost Sharing Reductions (CSR)
• Over 80% 0f US citizens benefit from Benefit Tax relief or CSR. Don't miss out!
A private exchange will generally be able to consider a wider range of services such as 'Eyes', 'Ears' 'Teeth' and even 'End of Life' to help you to negotiate a 'complete' package
2. Don't make any decisions without considering what actually happened in the past and what might happen next year.
For example, someone in your family may need regular prescription drugs, you may be expecting an addition to the family or planning medical treatment.
3. Don't fall for the 'cheapest'! ACA compliant BRONZE plans provide the security 0f the TEN ESSENTIAL BENEFITS and offer the lowest premiums BUT they come with a warning: 'You will have to pay for the UNEXPECTED'
A single visit to the Emergency Room or an extended course of prescription drugs could easily outweigh your hoped-for economies
SILVER and GOLD plans may result in higher (predictable) monthly outgoings but set a predicable cap on the 'out-of-pocket' (unexpected) expenses
4. Don't always opt for branded medications. Always ask if there are generic alternatives. A report published by AARP (American Association of Retired Persons) suggests that the cost of name branded prescriptions (patented medications) can be 18 times higher than non-patented (generic) equivalents
Remember, you will pay a proportion of your medication costs. This is even more important for individuals with chronic (long term) medication needs
5. Finally, always look at the options
a. Don't expect the first quotation to be the best
b. Don't wait to the last minute
c. Do check where the dollars went last year
d. Do estimate where you expect the dollars to go in 2020
e. Do use 'Open Enrollment' to explore
f. Do consult the Exchange
FOCUS ON THE FUTURE
Don't enroll or renew without reading this article!
(it could save you $thousands)
You may be enrolling for the first time or renewing either as an individual or as a member of a group (employer) scheme.
The same rules apply. Focus on the future!
Even if you decide to do nothing, make sure you have considered the alternatives…
Here is a list of DON'Ts
DON'T opt out
DON'T miss Open Enrollment
DON'T take the easy course and simply let your current plan rollover, (auto-renew)
1)Don't opt out
It is in fact, illegal not to have Health coverage which is ACA compliant. There are no legal penalties for not being insured but you will be entirely responsible for any medical and care costs associated with an illness or injury affecting you or one of your dependents.
80% of US citizens benefit from Premium tax relief or Cost sharing reductions (CSR). Don't miss out.
2)Don't miss open enrollment
ACA open enrollment runs from 1st November-December 15th.2019 (for the year 2020).  It is your opportunity to review (confidentially)your anticipated insurance needs and circumstances with an advisor from an insurance exchange; Federal, State or Private.  They all offer free, unbiased guidance on the choice of coverage and the net costs to you after premium tax relief and potential CSRs
3)Don't rollover (auto renew)
Of course, it is easiest to ask for the 'same again'! We all do it! But with insurance, and especially Health Insurance it is never the same again. Contract terms may change and some policies automatically rollover.  Your circumstances will definitely have changed.  You may have plans….
You need to consider
Changes from last year to this year

Medical condition (you or a dependent)

Anticipated needs, predicable medical treatment, prescription drugs, healthcare.

AND

Could you have paid less for the healthcare services you received last year?

Were you happy with the administrative support you received from your insurers?

Was the 'network' of providers convenient and appropriate?
4)Don't assume that low premiums will give you lowest costs
Health insurance premiums and deductibles are related.
Lower premium-Higher deductible
Higher premium-Lower deductible
These are broadly described by the metal tiers
Bronze
Silver
Gold
Platinum
Consider your circumstances and compare at least three plans. As rough guide, add the annual premium to the maximum 'out of pocket' for your preferred plans. Take advice from a Health Insurance Exchange. They can help you through the maze of options. They act on your behalf to find you 'best value'
5) Don't make your calculations without taking premium tax relief and cost sharing reductions (CSR) into account.
You can claim tax relief on monthly premiums if your income is not more than 4X the Federal Poverty Level (FPL)
You are entitled to CSR up to 2.5 times the FPL
In some cases, tax relief entirely covers the cost of your premium.
Access to preventative care benefits can be FREE
The average lifetime risk of developing breast cancer is ONE in EIGHT (12% of women). About 300,000 cases of breast cancer are diagnosed each year in the USA of which about 85% are successfully treated.
Sadly, breast cancer is the most common form of cancer (after skin cancers) but despite progress in treatment over 40,000 women (in the USA) die from the disease each year.
Of course, there have been significant advances in 'late-stage' treatments but the best opportunity to combat the condition is early detection.
ACA compliant health insurance covers the total cost of screening mammograms (including dependents up to the age of 26).
If a 'screening' mammogram reveals an abnormality your physician may suggest a 'diagnostic 'mammogram.
The diagnostic investigation may entail further x-rays or a biopsy. In most cases the result is negative. BUT early indications are your opportunity to access early treatment.
Not all health insurance policies cover the cost of 'diagnostic' assessments. Talk to us before you choose.
Use ACA open enrollment (November 1st -December 15th, 2019) to make sure that you and your family are eligible for your 2020 screenings.
Think pink. We do!
Refer: https://www.healthline.com/health/breast-cancer/treatment-breakthroughs-2019
Attention
This website is operated by TrueCoverage and is not the Health Insurance MarketplaceSM website. In offering this website, TrueCoverage is required to comply with all applicable federal laws, including the standards established under 45 CFR 155.220 (c) and (d) and standards established under 45 CFR 155.260 to protect the privacy and security of personally identifiable information. This website may not display all data on Qualified Health Plans (QHPs) being offered in your state through the Health Insurance MarketplaceSM website. To see all available data on QHP options in your state, go to the Health Insurance MarketplaceSM website at HealthCare.gov.
Also, you should visit the Health Insurance MarketplaceSM website at HealthCare.gov if:
You want to select a catastrophic health plan.
You want to enroll members of your household in separate QHPs.
The plans offered here don't offer pediatric dental coverage and you want to choose a QHP that covers pediatric dental services or a separate dental plan with pediatric coverage. Pediatric dental services are an essential health benefit.
TrueCoverage offers the opportunity to enroll in either QHPs and off-Marketplace coverage. Please visit HealthCare.gov for information on the benefits of enrolling in a QHP. Off-Marketplace coverage is not eligible for the cost savings offered for coverage through the Marketplaces.
If you'd like assistance in another language please dial 1-888-505-1815
If you are visually impaired, please visit the Federal Marketplace.