One stop destination for all your insurance needs
Select a product below to see your quotes
TrueCoverage is a Certified Direct Enrollment Partner of
Healthcare.gov
(You may be eligible for tax credits and subsidies)
Over
500 

top insurance carriers
Simplifying Insurance
How it
works?
Learn
We have plenty of useful resources to help you deal with the complexities of the insurance market. We describe the purpose of each type of insurance cover to turn buying insurance into a straightforward process, and avoid the use of jargon.
Shop
With over 500 carriers and 40,000+ plan designs, there are plenty of choices to select from. Based on your information we identify the plans which meet your needs, e.g. meet your State requirements and our guided plan advisor walks you through a personalized list of questions helping you to choose the best fit plans for your individual circumstances.
Enroll
Complete your enrolment online OR with help from our licensed and experienced advisors. The service is FREE now and for the duration of your policy.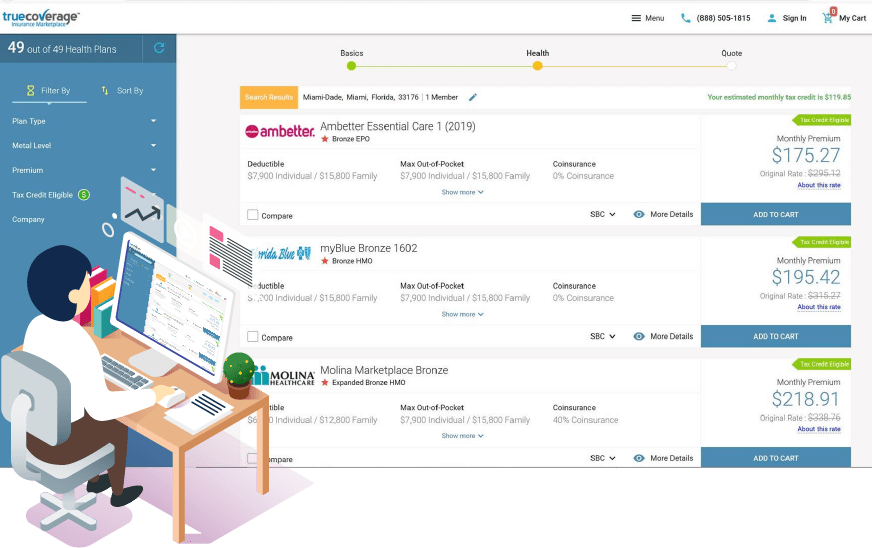 Our Features
Why
Truecoverage?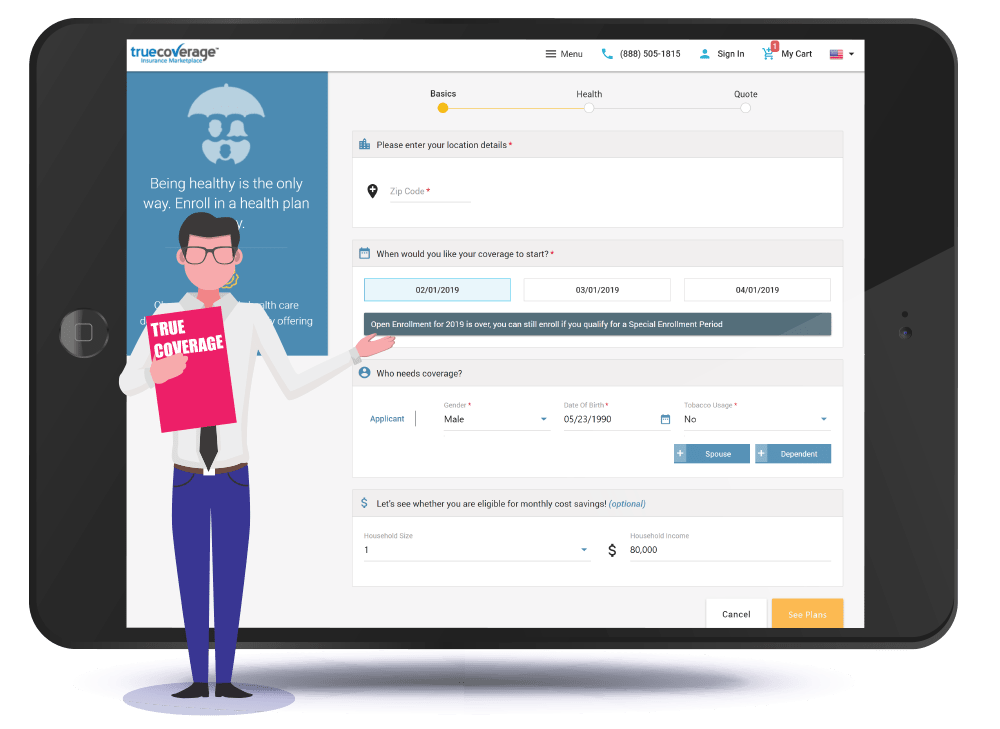 Unbiased Recommendations
We are proud to operate one of the strongest and best trained teams of insurance advisors in the USA. TrueCoverage is not linked to any Insurance Company. All our advice and recommendations are based on your needs.
Customer Service 24*7
Of course, we use clever technology to gather data but our advice is personal. Our licensed insurance agents are available to answer all your questions and you can be sure of a response the same working day. This is a service that lasts throughout the life of your policy
Largest Selections of Health Plans for all insurance
TrueCoverage works with over 500 insurers across all 50 States and with local agents who are totally familiar with the Federal and State legislation. That's TrueCoverage!
One-Stop Shop
TrueCoverage has brought together a team of experts who are able to advise both individuals and companies on their insurance needs. We bring all aspects of Health Insurance (including Dental and Vision), Life Insurance and more under one roof. We can offer Subsidy guidance as well. Truly a one-stop shop.
Simplified Quoting & Enrollment Tools
Online shopping with a personal touch. Just key in a few details, follow the guide. You will receive a selection of competitive quotations tailored to your needs. You can enroll with confidence. Uncertain? Don't worry, it is a big decision. Call us, our licensed insurance agents will provide you with all the guidance you need to shop the right plan.
We've helped over 1 million people find affordable health insurance 
Each customer gets the same quality service.
We are loved
Customer
Reviews
Looking for insurance? Look no further.
We get you quotes from top insurance providers, and present them  in a language you understand.
The Top Five Questions People Ask Us
Frequently Asked
Questions
How is TrueCoverage different from other insurance marketplaces?
It is simple. We are good at what we do!
We keep 'up to the minute' details of the insurance options on the market; over 500, 'A' rated insurers across 50 States.
You tell us what you need.
We search the best options for you.
If you texted us, we'll text you back, if you phone, we'll phone, Email, Email, on line, on line.
How does TrueCoverage help to find the right policy?
TrueCoverage is an insurance broker working on your behalf either as an individual or as a business manager to find the 'best value' package of insurances to meet your needs. We do not make decisions on your behalf but we are committed to giving you impartial advice. We can for example give guidance on possible taxation and potential subsidy implications.
Is TrueCoverage affiliated to any insurance companies?
No.
As an independent insurance broker, we are responsible to you for offering advice based on your needs and our knowledge of the marketplace.
How does TrueCoverage make money?
We offer you independent advice. The insurer you choose will pay us the same fee as any other.
Is TrueCoverage licensed?
Yes, in common with all brokers we are licensed in all the States in which we deal.
Let's Get You Some Insurance
Get Your Quote
Now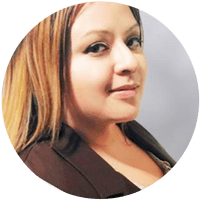 Interesting articles, trends and stories about the insurance industry
Learn
More
If you are already enrolled in a Medicare plan you can sit back and relax!
Or should you?
Your insurer will already have advised you that your plan needed renewing by December 15th and, in many cases, will have re-enrolled you on the same or similar plan.  Your first reaction was probably a relief. One less thing to worry about! But did you check the Medicare Star Rating?
You may be missing an opportunity
Between January 1st and March 31st, you have the opportunity to change your Medicare-approved plan, whatever the star rating, to an alternative Medicare 5-Star plan. You may not be able to reduce your service level (e.g. from silver to bronze) but you will be free to consider the opportunity to switch to another insurer, and/or to a 5-star rated Medicare Advantage plan or to a Medicare Prescription Drug Plan.
What does the STAR RATING tell us?
Like most five-star Quality Rating Systems (QRS) the overall rating (5* is best) reflects the performance in key areas of the service being delivered.
In this case
Medical care
Member experience
Plan Administration
If the plan includes prescription drug benefits
Accuracy of pricing information and patient safety
The Quality Rating System (QRS) will provide you with easily understood information to compare the quality and overall performance of comparable health care plans available on exchange websites. The ratings give you a common platform on which to judge competing plans.
For further information on QRS, the 5-Star ratings, read the TrueCoverage article:-
"NEW FOR 2020, ACA Compliant Health Plans WITH *STAR QUALITY*"
The most frequently asked FAQ is: what happens if my needs change during the plan period?
Generally speaking, you will have to wait for Open Enrollment, (October 15th – December 7th every year) before you can change your plan or insurer unless you qualify for a Special Enrollment Period.
Usually, there will be a delay between your need to change and when you can alter your plan or take out supplements. This can be life affectingly expensive – unexpected medical treatment, hospitalization, extended prescription drug needs.
Five Star Plans provide the opportunity to change your plan at almost any time (December 8th – November 30th).  Of course, there are some limitations.  You may only switch plans once during the plan's life (annual) and between 5* plans at the same or higher level.
That said, the QRS enables you to select a 5* plan which meets your needs at an equivalent or lower premium than other less highly rated plans.  The security of being able to switch as necessary is a bonus.
Don't miss the opportunity to switch to a 5* plan.  If you do nothing else, log in to the TrueCoverage web site to check your options.  There will plans on your screen for you to compare, within moments! If you need to need to talk to one of our specialists, just enter your contact number.  During the working day we will ring back within 30 seconds.  Out of hours? We will call you during the first hour of the next working day.
In this article, we suggest some questions you need to ask yourself about how to sign up for Medicare at age 65 and where to go for advice.
Signing up for Medicare for the first time? You need to be sure of what you are signing up for.
Medicare is the health insurance underwritten by the Federal government for: Senior citizens 65 or older and for younger people already receiving certain Disability Benefits or already enrolled.
As we shall see, Medicare plans provide Hospital Insurance (Medicare PART A), which is normally free and Medical Insurance (Medicare PART B) paid for by premiums offset by tax relief and state subsidies.
The program is designed to be flexible enough to allow individuals to tailor plans to meet their specific individual and family needs.
Medicare – First Time SignUp?
Medicare (Part C) plans allow users to design a custom plan that can be more closely aligned with their medical needs.
These plans combine parts A&B, and supplements can be added e.g. dental and vision to tailor plans to meet individual and family needs. These plans, ADVANTAGE PLANS, are run in cooperation with private insurance companies to provide some of the coverage. Advantage Plans may include prescription drugs coverage or you may choose Medicare Part D. WARNING: you cannot have prescription drugs coverage from more than one plan.
This is a broad description of the way that Medicare works with private insurers to deliver quality assured health insurance coverage.
NEXT, ask yourself what has changed since your last (ACA) enrollment. Perhaps you were covered by your employer's insurance. Would it now be your personal plan of choice?
Check your recent history of medical service usage e.g. doctor visits, prescription drugs. Reflect this in your Medicare planning.
Do you anticipate hospital visits (planned surgery), dental or hearing treatment?
When do you sign up for Medicare for the first time?
Generally, in the period three months before the month of your 65th birthday and the three months following. It may be expensive to miss this first opportunity.
Talk to your employer first if you are leaving a group plan
Check with your local Social Security office to make sure of your position and consider the alternatives. Original Medicare (A and B) are mandatory but you can choose the plan type that suits your needs. You can add the Medicare advantage plan (C) and if you anticipate the regular use of prescription drugs you should consider plan D.
If you or your spouse have been paying for your Social Security benefits for ten years (or 40 quarters), you will be automatically enrolled in Medicare Part A when you turn 65.
When you are nearing your 65th birthday make sure you check on this at your local Social Security office and also learn about additional coverage.
How much does it cost?
Part 'A' of Medicare is funded by the Federal Government from taxes. Part 'B' covers specified treatments and services. You would be liable for any costs outside these limits. The average premium (Part B) costs about $110 pm.
The Affordable Care Act (ACA) defines eleven (11) supplementary plans (MEDIGAP) which offer the opportunity to insure against potentially life-affecting outcomes. The exact amount will depend on the plan you choose and the benefits it offers. Make sure you go through the Summary of Benefits and understand the fine print.
Medicare Advantage plans may cost no more than Original Medicare but may offer additional and more flexible coverage.
Once you have been accepted on a Medicare plan you cannot be refused continued coverage regardless of your circumstances.
How do I judge the Quality of the plans on offer?
All plans offered through an exchange (Federal, State or Private) must display a STAR rating (1 – 5).
The star ratings (5 is best) give a clear guide to the quality of the plan; the premium and the coverage will give you a guide to value.
Where should I go for advice?
It may seem complicated but the most important facts are your birthdate and your previous health insurance status.
The exchanges exist to give you free, unbiased access to Medicare insurance plans which match your needs.
TrueCoverage offers free online tools to compare the widest choice of various Medicare plans and give you quotes and advice on premium tax relief and the benefits available in your state.
You can enroll online yourself and at any time request help from one of our trained advisors.
We hope this article has helped you understand how to sign up for Medicare at age 65.
,
There are three vital questions to ask yourself
Do I need to enroll in a prescription drug plan?
When should I enroll in a prescription drug plan?
What type of plan is right for me?
'Creditable' prescription drug coverage
OR
OR
Medicare Advantage Prescription Drug plan
Note: You may not have coverage from more than one of these categories at any one time.
Do I Need To Enroll In a Prescription Drugs Plan?
The short answer is YES!
Although Part D and Advantage Prescription plans are 'optional' there are time-related late-enrollment penaltieyour coverage. In the and more importantly you will be entirely responsible for the cost of prescription drugs not covered by Medicare (Parts A&B).
,
or a
.
eriod
medicare prescription drugs plan
fingertips
Attention
This website is operated by TrueCoverage and is not the Health Insurance MarketplaceSM website. In offering this website, TrueCoverage is required to comply with all applicable federal laws, including the standards established under 45 CFR 155.220 (c) and (d) and standards established under 45 CFR 155.260 to protect the privacy and security of personally identifiable information. This website may not display all data on Qualified Health Plans (QHPs) being offered in your state through the Health Insurance MarketplaceSM website. To see all available data on QHP options in your state, go to the Health Insurance MarketplaceSM website at HealthCare.gov.
Also, you should visit the Health Insurance MarketplaceSM website at HealthCare.gov if:
You want to select a catastrophic health plan.
You want to enroll members of your household in separate QHPs.
The plans offered here don't offer pediatric dental coverage and you want to choose a QHP that covers pediatric dental services or a separate dental plan with pediatric coverage. Pediatric dental services are an essential health benefit.
TrueCoverage offers the opportunity to enroll in either QHPs and off-Marketplace coverage. Please visit HealthCare.gov for information on the benefits of enrolling in a QHP. Off-Marketplace coverage is not eligible for the cost savings offered for coverage through the Marketplaces.
If you'd like assistance in another language please dial 1-888-505-1815
If you are visually impaired, please visit the Federal Marketplace.