ACA Open Enrollment is here!
Shop for affordable health insurance from Nov 1
st
 to Dec 15
th 
2019.
One stop destination for all your insurance needs
Select a product below to see your quotes
TrueCoverage is a Certified Direct Enrollment Partner of
Healthcare.gov
(You may be eligible for tax credits and subsidies)
Over
500 

top insurance carriers
Simplifying Insurance
How it
works?
Learn
We have plenty of useful resources to help you deal with the complexities of the insurance market. We describe the purpose of each type of insurance cover to turn buying insurance into a straightforward process, and avoid the use of jargon.
Shop
With over 500 carriers and 40,000+ plan designs, there are plenty of choices to select from. Based on your information we identify the plans which meet your needs, e.g. meet your State requirements and our guided plan advisor walks you through a personalized list of questions helping you to choose the best fit plans for your individual circumstances.
Enroll
Complete your enrolment online OR with help from our licensed and experienced advisors. The service is FREE now and for the duration of your policy.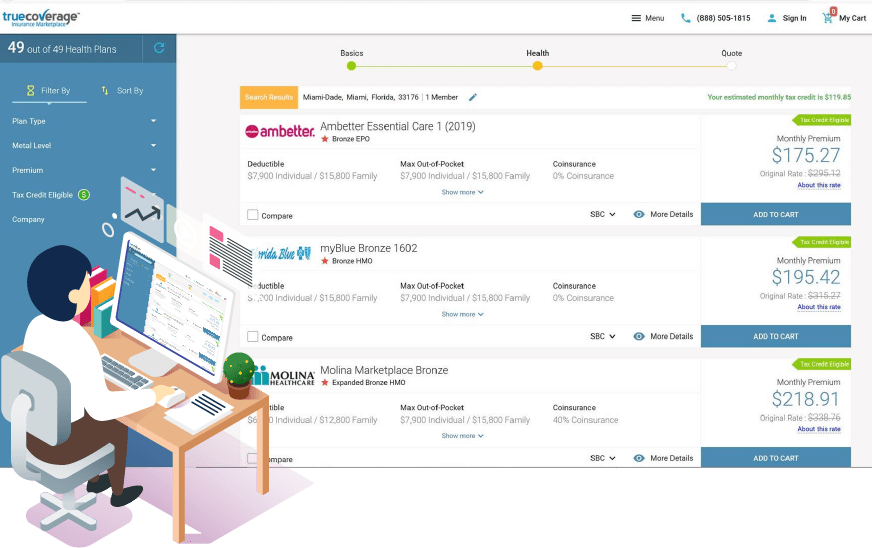 Our Features
Why
Truecoverage?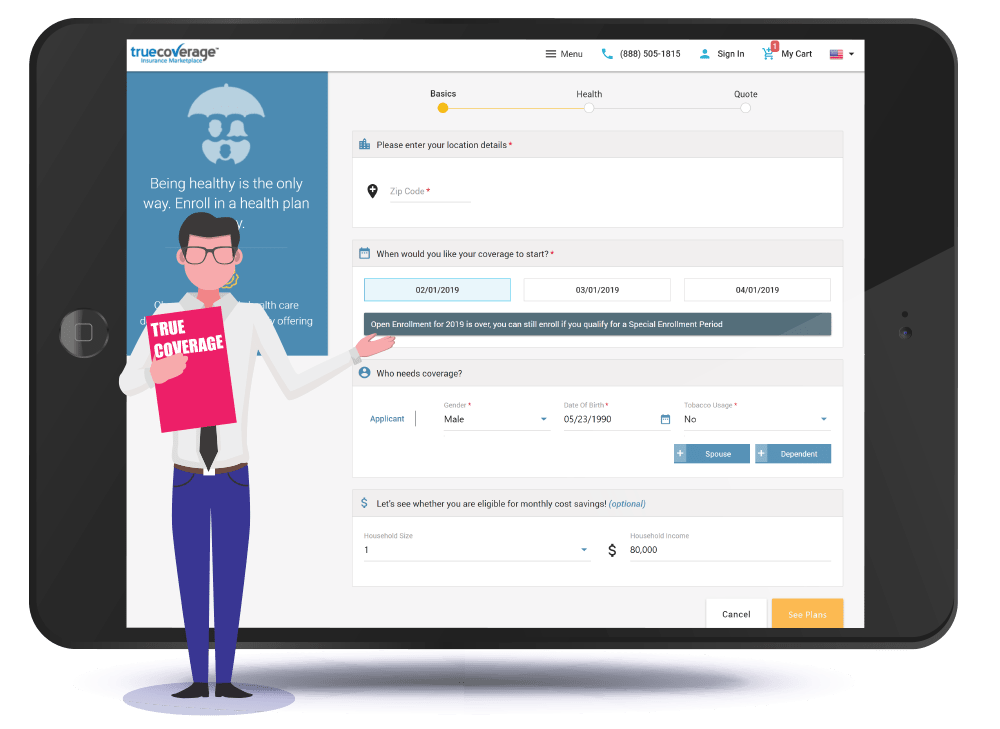 Unbiased Recommendations
We are proud to operate one of the strongest and best trained teams of insurance advisors in the USA. TrueCoverage is not linked to any Insurance Company. All our advice and recommendations are based on your needs.
Customer Service 24*7
Of course, we use clever technology to gather data but our advice is personal. Our licensed insurance agents are available to answer all your questions and you can be sure of a response the same working day. This is a service that lasts throughout the life of your policy
Largest Selections of Health Plans for all insurance
TrueCoverage works with over 500 insurers across all 50 States and with local agents who are totally familiar with the Federal and State legislation. That's TrueCoverage!
One-Stop Shop
TrueCoverage has brought together a team of experts who are able to advise both individuals and companies on their insurance needs. We bring all aspects of Health Insurance (including Dental and Vision), Life Insurance and more under one roof. We can offer Subsidy guidance as well. Truly a one-stop shop.
Simplified Quoting & Enrollment Tools
Online shopping with a personal touch. Just key in a few details, follow the guide. You will receive a selection of competitive quotations tailored to your needs. You can enroll with confidence. Uncertain? Don't worry, it is a big decision. Call us, our licensed insurance agents will provide you with all the guidance you need to shop the right plan.
We've helped over 1 million people find affordable health insurance 
Each customer gets the same quality service.
We are loved
Customer
Reviews
Looking for insurance? Look no further.
We get you quotes from top insurance providers, and present them  in a language you understand.
The Top Five Questions People Ask Us
Frequently Asked
Questions
How is TrueCoverage different from other insurance marketplaces?
It is simple. We are good at what we do!
We keep 'up to the minute' details of the insurance options on the market; over 500, 'A' rated insurers across 50 States.
You tell us what you need.
We search the best options for you.
If you texted us, we'll text you back, if you phone, we'll phone, Email, Email, on line, on line.
How does TrueCoverage help to find the right policy?
TrueCoverage is an insurance broker working on your behalf either as an individual or as a business manager to find the 'best value' package of insurances to meet your needs. We do not make decisions on your behalf but we are committed to giving you impartial advice. We can for example give guidance on possible taxation and potential subsidy implications.
Is TrueCoverage affiliated to any insurance companies?
No.
As an independent insurance broker, we are responsible to you for offering advice based on your needs and our knowledge of the marketplace.
How does TrueCoverage make money?
We offer you independent advice. The insurer you choose will pay us the same fee as any other.
Is TrueCoverage licensed?
Yes, in common with all brokers we are licensed in all the States in which we deal.
Let's Get You Some Insurance
Get Your Quote
Now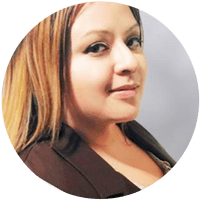 Interesting articles, trends and stories about the insurance industry
Learn
More
Enroll in an ACA compliant health insurance plan!
WHY?
To ensure that you and your loved ones have coverage in 2020 that takes advantage of state and government reliefs and subsidies to which they are entitled.
All compliant coverage will protect you and your dependents from the extremes of medical and care costs.
WHEN?
As soon as possible and definitely before DECEMBER 15th (there are a few state extensions; check with your health insurance exchange)
For most of us OPEN ENROLLMENT (through an exchange (Federal, State or Private) is the only opportunity, time and place, to secure the tax relief, and cost-sharing reductions which make healthcare AFFORDABLE. Over 80% of US citizens receive tax relief. Don't miss out on the benefits to which you are entitled!
WHO?
YOU!
If you are enrolling for the first time take advantage of the marketplace exchanges (for example TrueCoverage) to understand your options.
Exchanges are independent, unbiased and their services are free. Most importantly, your details are entirely confidential
If you are planning to 'rollover' i.e. renew with the same insurer, take the opportunity to look at the alternatives. Take a second opinion! It will be FREE but it may save you $THOUSANDS

Your circumstances have changed! We all get older! You now know more about your recent medical costs, your prescription drug needs, future possible medical interventions

Your insurers (carriers) may have altered their terms, they may not have high star ratings for service. Perhaps you can find coverage that is better administered or has a network more suited to your anticipated needs
HOW?
First off, go to HealthCare.gov for details of your state Health insurance exchange AND one or more private exchanges.
CHOOSE – make the calls
Be armed with the answers to their questions (they are very straightforward)
Your age?
Your location (Zipcode)? This will identify State variations in OPEN ENROLLMENT CLOSURE DATES and THE LOCAL SERVICE PROVIDER OPTIONS
Do you need an individual or family plan?
Have a note of the ages of your dependents
4. Do you use tobacco?
You cannot be refused a medical plan whatever your answer but it may affect your premium and possibly your co-insurance terms. (this varies from state to state)
Second, put some time aside for research. Say 30 minutes to talk to your state exchange and ONE (at least) private exchange.
GIVE YOURSELF OPTIONS!
Finally, on most exchanges you can complete your enrollment ON-LINE or with the assistance of A QUALIFIED NAVIGATOR.
WHY DO I NEED A 'QUALIFIED NAVIGATOR'?
Every family wants the Health insurance that best meets their needs. Each insurance company strives to offer them the coverage which best meets their expectations.
You are faced with millions of options. Your NAVIGATOR can expertly point you in the right direction, help you to the decision that best suits you and your dependents' needs.
Call us now
You don't have much time left to enroll (open enrollment ends December 15th) but for 2020 CMS (Centers for Medicare and Medicaid Services) has moved to make your choices better informed.
All Insurers (Carriers) are now required to display a 'STAR RATING' for any of their policies offered on Health insurance exchanges (Federal, State or private).
What does the STAR RATING tell us?
Like most five-star Quality Rating Systems the overall rating (5 stars is best) reflects the performance in key areas of the service being delivered.
In this case
Medical care
Member experience
Plan Administration
The Quality Rating System (QRS) will provide you with easily understood information to compare the quality and performance of comparable health care plans available on exchange websites.
MEDICAL CARE
The medical care assessment is based on how well the health care providers in the plan's network manage member's healthcare.

This includes providing regular screenings, vaccines, and other basic health services

Monitoring some conditions
2. MEMBER EXPERIENCE
The member experience assessment is based on surveys of member satisfaction with:

Their healthcare and doctors

Ease of getting appointments and obtaining services
3. PLAN ADMINISTRATION
This is a measure of how effectively a plan is run. The rating takes account of

Availability of necessary information appropriately presented

Network providers facilitating appropriate tests and treatment in a timely fashion
SUMMARY
The QRS (Quality Rating System) is a positive contribution to ensuring that enrollees have an independent tool for assessing the appropriateness and quality of qualifying the health plans available through the Health Insurance exchanges.
A star rating system may seem simplistic, but it is based on over 35 measurements of Medical Care, User satisfaction and Administrative excellence. All plan ratings are calculated in the same way.
How does the STAR RATING work?
The choice of metal Bronze, Silver, Gold or Platinum is unchanged. Your decision should be based on your expected healthcare needs in 2020.
Let's assume you decide on a Silver Plan. Your exchange (either in person or electronically) will offer you several plans from different insurers. IT may be tempting to choose the least expensive premium between comparable offerings.
The QRS will allow you make your decision based on independent quality assessments.
You may still choose the cheapest plan but it will be a significantly better-informed decision!
Someone has to be last but don't let it be you! Give yourself time to discuss your health insurance with experts. Learn how ACA (Obamacare) makes coverage for you and your dependents affordable. In some cases, monthly premiums are entirely covered by tax relief. The ten essential benefits and preventative services can effectively be yours FREE.
BUT BEWARE – these subsidies are only available if you shop through a health insurance exchange. The services of the exchange (Federal, State or Private) are independent and free. Their role is twofold.
To ensure that you have a competitive choice of plans to choose from and that they meet your needs
As brokers, the exchanges act on your behalf throughout the life of your policy
All exchanges are bound by the same rules of conduct, but in general private exchanges such as TrueCoverage offer greater flexibility and a wider range of options and ancillary services.
One thing that no one can alter is the CLOSING DATE for OPEN ENROLLMENT, DECEMBER 15th (a few states have later closing dates e.g. NY, check with your exchange)
DO I HAVE CHOICES?
If you have not yet enrolled you can choose
ROLL-OVER – Do the same as last year! It might be the right thing to do but you won't know unless you satisfy yourself by looking for alternatives.
LOOK AT THE CHANGES in your family (dependents) since last year. Stop to think about the changes you anticipate in 2020, aging on, aging off. Consult at least two exchanges! Compare their offerings. Use the 'worst case' approach. Don't think "cheapest" think "best value"
DO NOTHING – This should not be an option. It is the highest risk. You could be left facing enormous medical and care costs. Unpaid medical and care bills are among the most common causes cited in US bankruptcies.
RELY on short term insurance. In some situations, it can be useful as a stop-gap measure but NEVER as a strategy for cutting the cost of health coverage and may not accept pre-existing conditions.
WAIT for a special enrollment period (SEP) – DON'T! Special enrollment periods are personal opportunity windows. They are designed to allow existing enrollees to modify their health coverage in response to major changes in their circumstances e.g. marriage, out of state relocation.
A common reason for not discussing health insurance with insurance is a concern for confidentiality, possibly about medical or financial details. Your personal information is used only as a basis for preparing health insurance proposals, estimates of premium tax relief and eligibility for cost-sharing subsidies (CSR).
NO personal information will be used for any other purpose and release to a third party will require your specific approval.
Attention
This website is operated by TrueCoverage and is not the Health Insurance MarketplaceSM website. In offering this website, TrueCoverage is required to comply with all applicable federal laws, including the standards established under 45 CFR 155.220 (c) and (d) and standards established under 45 CFR 155.260 to protect the privacy and security of personally identifiable information. This website may not display all data on Qualified Health Plans (QHPs) being offered in your state through the Health Insurance MarketplaceSM website. To see all available data on QHP options in your state, go to the Health Insurance MarketplaceSM website at HealthCare.gov.
Also, you should visit the Health Insurance MarketplaceSM website at HealthCare.gov if:
You want to select a catastrophic health plan.
You want to enroll members of your household in separate QHPs.
The plans offered here don't offer pediatric dental coverage and you want to choose a QHP that covers pediatric dental services or a separate dental plan with pediatric coverage. Pediatric dental services are an essential health benefit.
TrueCoverage offers the opportunity to enroll in either QHPs and off-Marketplace coverage. Please visit HealthCare.gov for information on the benefits of enrolling in a QHP. Off-Marketplace coverage is not eligible for the cost savings offered for coverage through the Marketplaces.
If you'd like assistance in another language please dial 1-888-505-1815
If you are visually impaired, please visit the Federal Marketplace.