One stop destination for all your insurance needs
Select a product below to see your quotes
TrueCoverage is a Certified Direct Enrollment Partner of
Healthcare.gov
(You may be eligible for tax credits and subsidies)
Over
500 

top insurance carriers
Simplifying Insurance
How it
works?
Learn
We have plenty of useful resources to help you deal with the complexities of the insurance market. We describe the purpose of each type of insurance cover to turn buying insurance into a straightforward process, and avoid the use of jargon.
Shop
With over 500 carriers and 40,000+ plan designs, there are plenty of choices to select from. Based on your information we identify the plans which meet your needs, e.g. meet your State requirements and our guided plan advisor walks you through a personalized list of questions helping you to choose the best fit plans for your individual circumstances.
Enroll
Complete your enrolment online OR with help from our licensed and experienced advisors. The service is FREE now and for the duration of your policy.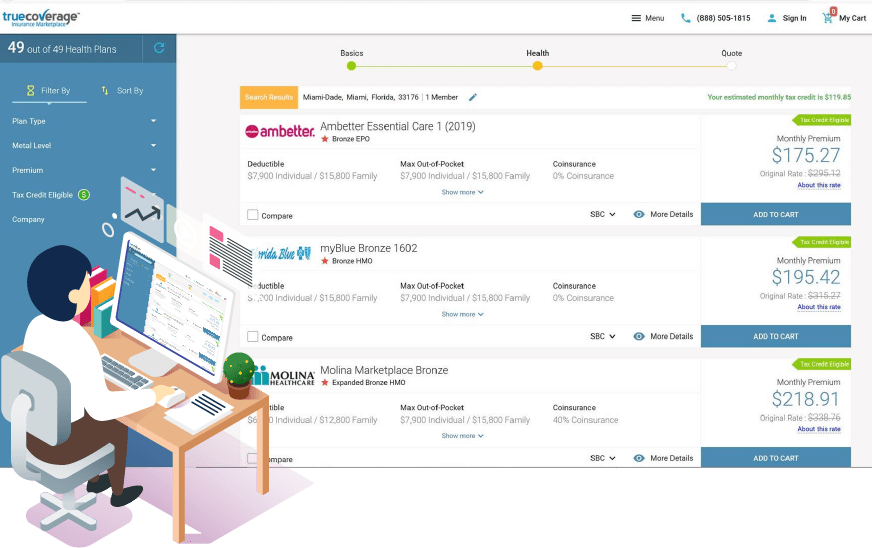 Our Features
Why
Truecoverage?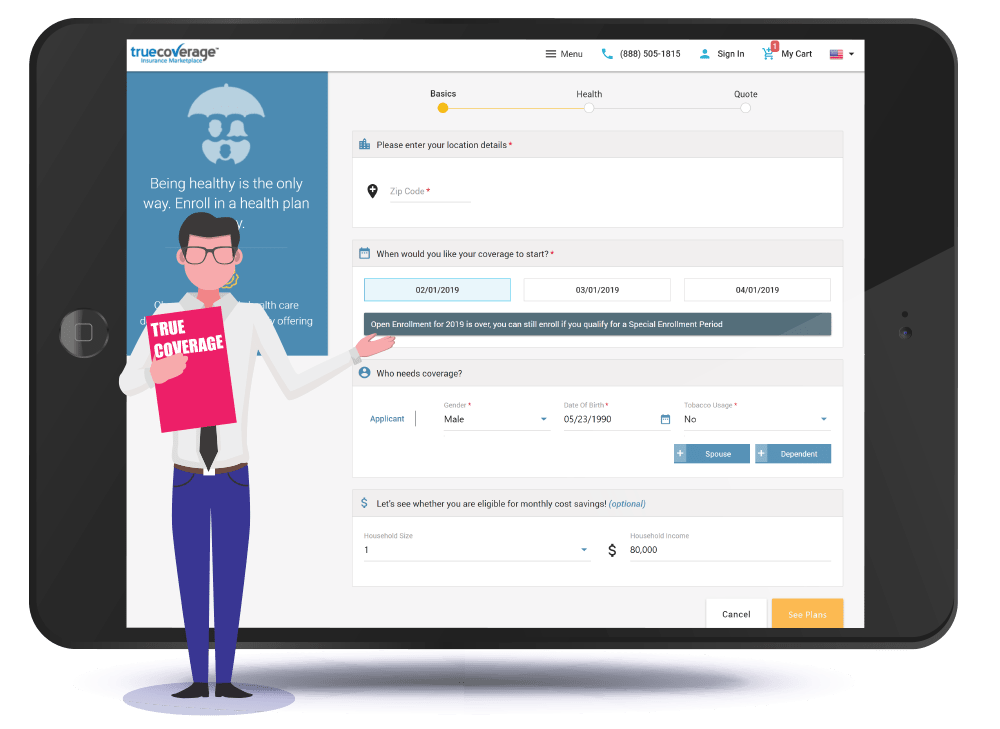 Unbiased Recommendations
We are proud to operate one of the strongest and best trained teams of insurance advisors in the USA. TrueCoverage is not linked to any Insurance Company. All our advice and recommendations are based on your needs.
Customer Service 24*7
Of course, we use clever technology to gather data but our advice is personal. Our licensed insurance agents are available to answer all your questions and you can be sure of a response the same working day. This is a service that lasts throughout the life of your policy
Largest Selections of Health Plans for all insurance
TrueCoverage works with over 500 insurers across all 50 States and with local agents who are totally familiar with the Federal and State legislation. That's TrueCoverage!
One-Stop Shop
TrueCoverage has brought together a team of experts who are able to advise both individuals and companies on their insurance needs. We bring all aspects of Health Insurance (including Dental and Vision), Life Insurance and more under one roof. We can offer Subsidy guidance as well. Truly a one-stop shop.
Simplified Quoting & Enrollment Tools
Online shopping with a personal touch. Just key in a few details, follow the guide. You will receive a selection of competitive quotations tailored to your needs. You can enroll with confidence. Uncertain? Don't worry, it is a big decision. Call us, our licensed insurance agents will provide you with all the guidance you need to shop the right plan.
We've helped over 1 million people find affordable health insurance 
Each customer gets the same quality service.
We are loved
Customer
Reviews
Looking for insurance? Look no further.
We get you quotes from top insurance providers, and present them  in a language you understand.
The Top Five Questions People Ask Us
Frequently Asked
Questions
How is TrueCoverage different from other insurance marketplaces?
It is simple. We are good at what we do!
We keep 'up to the minute' details of the insurance options on the market; over 500, 'A' rated insurers across 50 States.
You tell us what you need.
We search the best options for you.
If you texted us, we'll text you back, if you phone, we'll phone, Email, Email, on line, on line.
How does TrueCoverage help to find the right policy?
TrueCoverage is an insurance broker working on your behalf either as an individual or as a business manager to find the 'best value' package of insurances to meet your needs. We do not make decisions on your behalf but we are committed to giving you impartial advice. We can for example give guidance on possible taxation and potential subsidy implications.
Is TrueCoverage affiliated to any insurance companies?
No.
As an independent insurance broker, we are responsible to you for offering advice based on your needs and our knowledge of the marketplace.
How does TrueCoverage make money?
We offer you independent advice. The insurer you choose will pay us the same fee as any other.
Is TrueCoverage licensed?
Yes, in common with all brokers we are licensed in all the States in which we deal.
Let's Get You Some Insurance
Get Your Quote
Now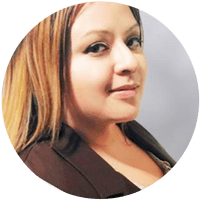 Interesting articles, trends and stories about the insurance industry
Learn
More
Just recently the TrueCoverage team wrote an article 'MEDICARE FOR ALL EXPLAINED' and concluded that while the Democratic party had a distinctly different approach to funding national healthcare from the Republicans, they had yet to find 'a policy which values enterprise and recognizes that the demand for ANYTHING FREE is infinite.' In this article, we consider Mike Bloomberg's stand on ACA and his vision of an affordable healthcare plan.
Whereas Sanders talks of 'Medicare for all' Bloomberg's idea is to introduce an affordable healthcare plan, federally run, as a public option alongside the privately insured ACA. Read about Bernie Sanders take on Medicare for all: Read more
The public insurance option would be aimed initially at the uninsured and low-income families in states which have not expanded Medicaid under ACA.
Mike Bloomberg's 'affordable healthcare plan' can be described as having three objectives. They are to: –
Extend coverage to those who cannot afford now afford it
Widen the range of health services
Reduce/control prices and charges for treatment and medication.
Extend the coverage
The public health insurance (PHI) option would be administered by the federal government (not for profit) but paid for by customer premiums. The same tax reliefs and subsidies would apply as for plans bought on the health insurance exchanges. Individuals would be allowed to keep their private insurances.
At the same time some of Bloomberg's 'health care price capping' and 'cost control' initiatives would make ACA compliant plans more affordable and increase the uptake of private health insurance. Currently, approximately 28 million Americans do not have health insurance and a further 41 million are thought to be under-insured.
Some counties do not have full (or any) health insurance coverage. Mike Bloomberg's stand on ACA would remove this injustice by bringing PHI to the market place.
Widen the range of services
Approximately 30% of US citizens do not visit their dentist regularly, nor do they seek preventative care for hearing and vision. Bloomberg intends to include these as Medicare options and for all states to include oral health services for all adults in the 'Medicaid' program.
Reduce/control prices and charges
It is generally agreed that the cost of providing healthcare in the USA is too high (nearly 2x that of other developed countries). The evidence suggests that in many areas (for instance, life expectancy and infant mortality) the outcomes are worse than in other advanced nations.
Extending coverage and widening the range of services are not, in themselves, going to reduce the cost of treatment and care. They should, of course, improve overall outcomes, e.g. life expectancy and infant mortality.
Bloomberg's approach is to 'cap' individual's premiums to 8.5% of household income. This may be good news to us as individuals but will make additional demands on federal taxes.
He proposes various other caps. For example, on out-of-network charges and most significantly, on the price of medications including prescription drugs. Bloomberg's affordable healthcare plan would restrict US drug prices to 120% of the average price charged in other advanced nations. To illustrate the problem, some prescription drugs are available in Canada for approximately 30% of the cost of the same drug in the USA. This may be good news for the US citizen with a chronic need but could have a huge revenue/profit impact on major US pharmaceutical companies.
The main influence on our choice of drugs is the pharmacist who fills our prescription. Bloomberg proposes to ban payments to pharmacists by drug companies seeking to obtain preferential treatment. No one should be incentivized to persuade us to buy a branded drug when the generic alternative is just as effective.
As we describe, Bloomberg offers a range of ideas to promote competition and efficiency while maintaining the ethical standards of Medicare, Medicaid and the ACA.
One further idea is to create a permanent reinsurance program. This is common practice in most areas of insurance. It encourages insurers to insure themselves, i.e. spread their risk of having to meet extreme claims. This would enable them to reduce premiums to their clients: Bloomberg claims by 10%.
Bloomberg vs Trump
No one seriously argues that the US health care system is either more efficient or more effective in terms of outcomes than health care systems in other advanced countries.
Efficiency
The US spends 17-18% of its GDP on health care while the average developed country spend is 8-9%.
Effectiveness
Access to care, the US score lower than other developed countries on the following measures: –

Practicing doctors -19% per person
Coverage
In the US 10% of all Americans have no Health Insurance coverage compared with 99-100% coverage in the ten other countries in a recent JAMA study.
Donald Trump takes a laissez faire approach, reckoning that market forces will eventually determine a health care system where demand is met at an affordable price without the intervention of the federal government and minimal involvement of individual states.
The single payer system proposed by Sanders is entirely at odds with Republican ideology and is indeed not widely endorsed by his own party. It would involve the complete dismemberment of existing structures.
In broad terms we devote some $3.5 trillion on the US health care system ($ spent either directly by us as individuals or indirectly through federal and state taxes). About 16 million people are employed within the system and millions more in supporting industries, such as pharmaceuticals and insurance.
Bloomberg's proposals deserve consideration for their recognition of the multi-dimensional nature of the problems health care faces and the need to build on existing structures for the benefit of the whole nation.
Attention
This website is operated by TrueCoverage and is not the Health Insurance MarketplaceSM website. In offering this website, TrueCoverage is required to comply with all applicable federal laws, including the standards established under 45 CFR 155.220 (c) and (d) and standards established under 45 CFR 155.260 to protect the privacy and security of personally identifiable information. This website may not display all data on Qualified Health Plans (QHPs) being offered in your state through the Health Insurance MarketplaceSM website. To see all available data on QHP options in your state, go to the Health Insurance MarketplaceSM website at HealthCare.gov.
Also, you should visit the Health Insurance MarketplaceSM website at HealthCare.gov if:
You want to select a catastrophic health plan.
You want to enroll members of your household in separate QHPs.
The plans offered here don't offer pediatric dental coverage and you want to choose a QHP that covers pediatric dental services or a separate dental plan with pediatric coverage. Pediatric dental services are an essential health benefit.
TrueCoverage offers the opportunity to enroll in either QHPs and off-Marketplace coverage. Please visit HealthCare.gov for information on the benefits of enrolling in a QHP. Off-Marketplace coverage is not eligible for the cost savings offered for coverage through the Marketplaces.
If you'd like assistance in another language please dial 1-888-505-1815
If you are visually impaired, please visit the Federal Marketplace.