Health Insurance Plans after Open Enrollment are available with a qualifying event
Open Enrollment for 2021 ends on Dec 156th 2020. If you need health insurance now. There are two options:
Check if you qualify for a Special Enrollment Period. The next Open Enrollment period will begin November 1, 2021, for coverage effective January 1, 2022. You can enroll in or change plans for 2021 if there has been a Qualifying Life Event (such as a marriage, divorce, or loss of employer coverage).
Indian tribes and Alaska natives have an exception to the above options. Members of federally recognized tribes and Alaska Native shareholders are eligible to enroll in ACA coverage any time of the year.
Qualifying events that trigger a Special Enrollment Period
Ever since the Affordable Care Act came into effect, Individual and Family health insurance coverage became similar to the options offered by employer-sponsored health insurance. Therefore, the individual market now uses annual open enrollment windows and allows for a special open enrollment period initiated by qualifying events.
If you are eligible to buy health insurance during the special open enrollment period – you generally have 60 days – during which you can enroll or switch to a different plan.
But you don't have to wait for open enrollment if you have a qualifying event that triggers your own special open enrollment window.
The first step is to understand whether you have a qualifying event.
Here is a quick SEP checklist:
Loss of qualifying health coverage in the past 60 days OR expects to lose coverage in the next 60 days.
Getting married or divorced
Gaining or losing a dependent including having a child, adopting a child, or placing a child for adoption or in foster care
Moving to a new residence or location
Having a change in disability status
Loss of employer-sponsored health coverage
COBRA insurance coverage period ends
Becoming a US citizen
Certain income changes
Certain errors or exceptional circumstances are reviewed on a case-by-case basis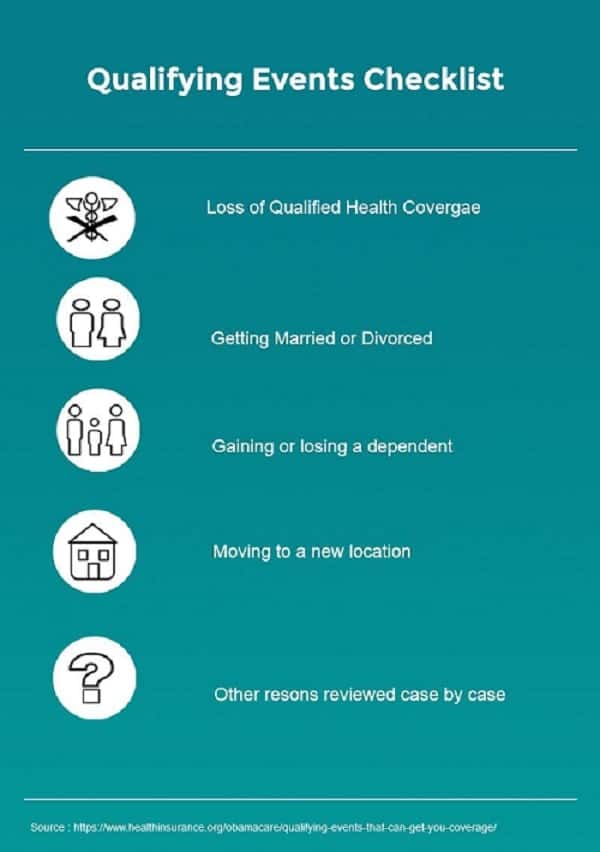 Can you prove your eligibility?
Please note that the U.S. Department of Health & Human Services (HHS) has been reviewing the eligibility criteria for Special Enrollment very closely, amid concerns from insurers that enforcement was too lax in 2014 and 2015. So now it is more important to be prepared to submit proof of the qualifying event to the exchange.
In case you are unable to apply for an ACA-compliant policy, you can consider getting a short-term policy. This, however, is not considered as minimum essential coverage, and you might have to pay a penalty if this coverage is for more than three months.
Other disadvantages:
This is most suitable for those who have less than three months for the remainder of the year until the next open enrollment begins.
What about Life Insurance?
Life Insurance is essentially about securing the financial welfare of your dependents in the event of your death or some other event such as an accident or critical illness.