Truecoverage Agent Referral Program
TrueCoverage announces exciting Agent Referral Program exclusively for agents using the BenefitalignTM BrokerEngageTM Enrollment Platform
150000+ lives enrolled in ACA plans until date
Truecoverage is one of the Top CMS Certified Direct Enrollment Partner for ACA Enrollment in United States
Grow with Truecoverage
How

does Agent Referral Program work?
If you are a licensed agent and not appointed with a carrier that your customer is interested in, you can take advantage of our referral program. Keep in mind you will need to be a user of BenefitalignTM BrokerEngageTM platform to participate in the program.
Using the BenefitalignTM BrokerEngageTM platform, you can refer a customer in one of three ways:

Capture your customer's basic demographic details and send the application to us electronically

Send the referral link directly to your customer via email

Give your customer the TrueCoverage referral phone number listed under settings to call. This number is mapped to your referral ID
Agent Referral Program
Frequently

Asked Questions
Do I need to be FFM OR State Exchange Certified to refer clients to TrueCoverage?
You do not need to be FFM or State Exchange Certified. A licensed FFM or State Exchange Certified TrueCoverage agent will be helping your client with shopping and enrollment.
How do I ensure ONLY customers that I WANT to REFER are sent as Referrals to TrueCoverage?
You will set up your appointment matrix under settings on the BenefitalignTM BrokerEngageTM platform. Set the carriers you are appointed with under your name. Select TrueCoverage for those carriers that you are not appointed with. Finally, when you enter the customer's details, select the "referral" checkbox to confirm that you want to send the customer as a referral to TrueCoverage.
Will TrueCoverage sell any other products to my clients?
No. TrueCoverage will only sell the product category for which the customer was specifically referred for. If it is an ACA referral, we will sell an ACA plan OR if it is a Medicare Supplement referral we will sell Medicare Supplements and so on. You can still sell other products to your customer.
What happens once the client is referred to TrueCoverage?
If the customer uses the referral link, the customer can self-enroll into the plan. If the referral is sent electronically OR the customer calls the custom phone number, the associated TrueCoverage licensed agent walks them through the plan details and completes the enrollment on their behalf.
How will I know that the referral was successfully enrolled or not?
All referrals submitted will be displayed under the referral tab with the appropriate status ['Pending', 'Cancelled', 'Enrolled'].
How am I paid for the referrals?
TrueCoverage will send you a $75 Visa Gift Card for each referral who has successfully enrolled with TrueCoverage through your referral link or phone number.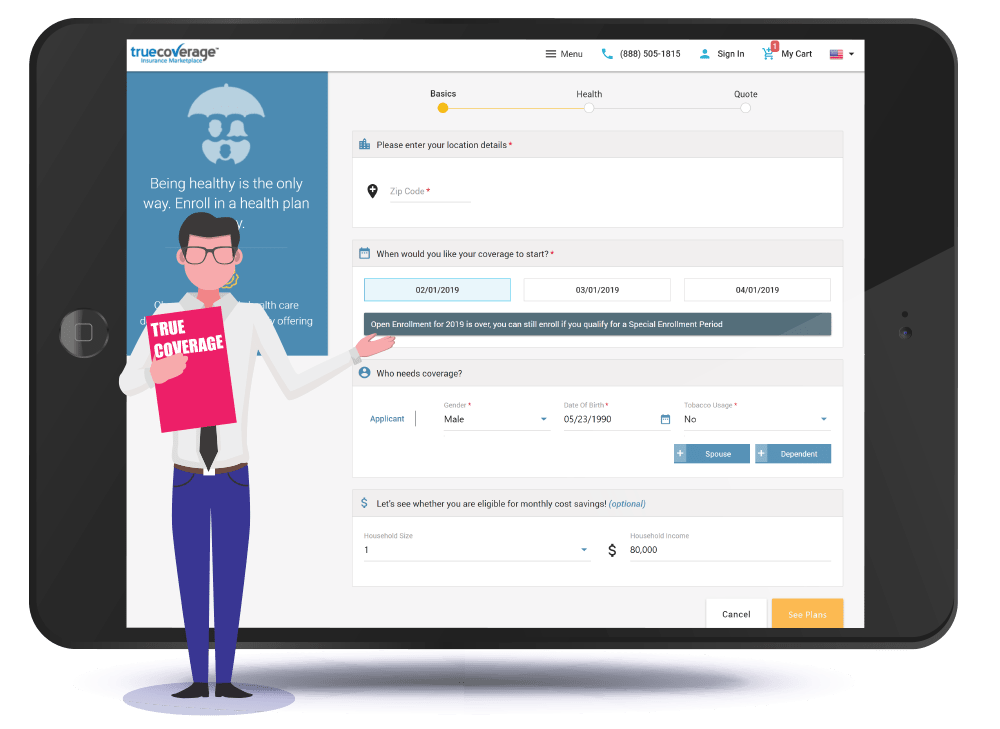 Contact Truecoverage
Enroll

 in Agent Referral Program