Florida Health Insurance

Affordable FL Health Insurance Options
Open Enrollment is upon the State of Florida with affordable health insurance options for Floridians!
Due to the COVID-19 pandemic, the Affordable Care Act (ACA)'s tax subsidies were vastly expanded, allowing more than 70 percent of applicants to receive free health insurance! These premium tax credits are likely to become permanent in the next few years, allowing more lower- and middle- class Floridians access to cheap or free health insurance!
In Florida, there is a small window for Open Enrollment during which anyone can apply for the tax subsidy they need to pay for their FL health insurance. True Coverage has information on more than 50,000 policies from 600 carriers to select from, so you won't have any trouble with picking something perfect for you and your family! Keep in mind, the only way to enroll in a policy outside of the Florida Open Enrollment window is to qualify for a Special Enrollment Period.
TrueCoverage scours the insurance marketplace for you with our easy-to-use search engine that helps you find a Florida healthcare policy that fits your needs and your wallet. Choose from the top insurance companies in Florida, such as Blue Cross Blue Shield of Florida, Health First Commercial Plans, Cigna, and Humana
Finding the best FL health insurance for you and your loved ones doesn't have to be a difficult process. True Coverage will take care of all the details of the pre-enrollment process, from finding out what kind of coverage is right for you to the amount of your health insurance premium tax credit (subsidy), TrueCoverage has got Florida covered!
Or, if you are approaching 64 and a half years old or already there, TrueCoverage is there to help with enrolling in a Medicare advantage plan or finding the best in Florida Medicare Supplementals. Florida has a low Medicare enrollment rate of 16 percent and only 38 percent of those have enrolled in Medicare Advantage plans; Medicare Advantage and Medicare supplemental plans could save you a LOT of money.
Small Business Health Insurance in Florida
Any small business owner in Florida with 2 to 50 full-time-equivalent employees (FTEs) is qualified for the Small Business Health Option Program or SHOP for purchasing necessary qualifying coverage for your employees. Additionally, Floridian small business owners also have the option to use a private insurance agent or broker such as TrueCoverage. The typical FL small business policy has just four to six employees. Plus, you will qualify for business tax credits if you give toward your employees' premium costs.
Finding Affordable Health Insurance Coverage in Florida
Your first instinct when shopping for affordable health insurance in Florida might be to go with the cheapest monthly insurance payment (premium) you can find. While the cheapest plan might seem like it is the best for your pocketbook initially, that may not be true in the long run. TrueCoverage is here to help educate Floridians on what you need in a carrier whether shopping for a new or renewing your current healthcare plan.
Sorting through thousands of Florida healthcare plans to pick the right one for you may sound like a daunting task. To analyze the true price of a policy you need to compare deductibles, copays and coinsurance rates, as well as the monthly premium itself to see how it will all add up for your family. One way we simplify this process is through the metal tier ranking system, which rank which plans offer the best value for their price. And if you need assistance to figure out which FL ACA health insurance is the right fit for you, TrueCoverage has got you covered. Remember the cheaper options are only affordable in the long term if the other fees don't add up, but you also don't want to over-insure and pay for benefits you won't use.
The Health Insurance Marketplace offers Floridians certain "extra savings" opportunities, known as cost-sharing reductions (CSR). Utilizing these discounts, you can lower the total amount you pay on your health insurance deductibles, copays, and coinsurances. These reductions allow lower income folks in Florida the opportunity to seek needed medical treatment.
Regardless of the metal tier you select, you may qualify to save money via a tax subsidy (premium tax credit); but the Silver plans are the only health insurance plans in Florida that offer the "extra savings: of CSRs. By utilizing CSRs, you will also be granted a lower annual out-of-pocket maximum, which is the maximum amount of funds you pay before your insurance takes over.
Key Details about Health Insurance in Florida 
Florida also safeguards customers from surprise billing
Florida is one of the rare remaining states that has not expanded Medicaid
The ACA eliminated loopholes and mandated that all ACA-qualifying plans in Florida include ten key health services. Before the Affordable Care Act became Federal law in Florida, insurers could refuse to cover various health benefits, resulting in overwhelming medical debt for many in FL.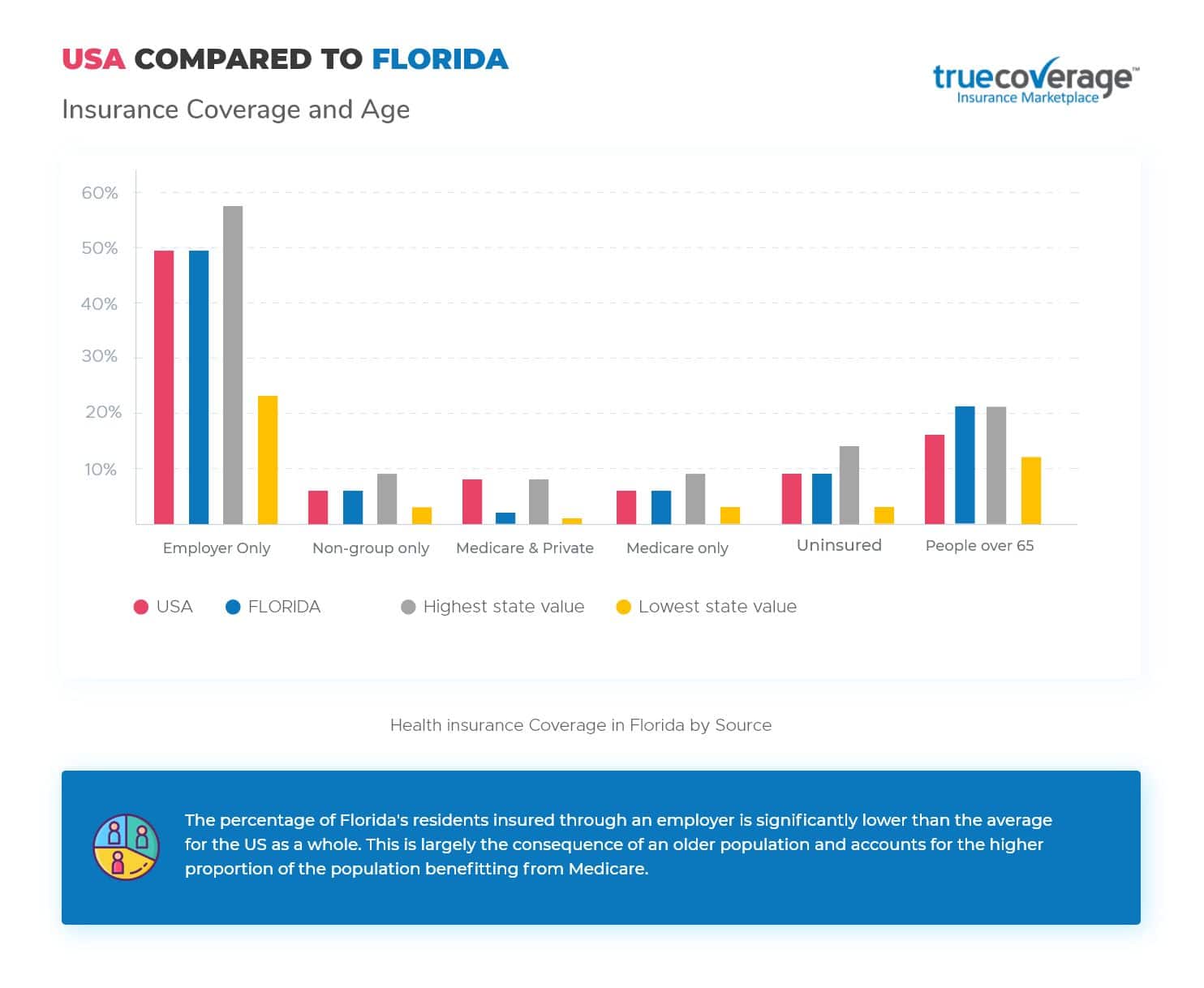 Exploring the Florida Health Insurance Marketplace
Florida residents can sign up for health insurance plan using private insurance exchanges, such as TrueCoverage. These marketplaces offer more of a selection of ACA-compliant plans than the official FL state exchange.
Plus, through health insurance exchanges like TrueCoverage, you get access to supplemental insurance products, such as:
Dental
Vision
Accidental Death
Critical Illness
Disability
Life
Medicare Advantage
Medicare Supplemental
And more
The Benefits of Working with a Health Insurance Broker in Florida
TrueCoverage is a Certified Enhanced Direct-Enrollment (EDE) partner of  Healthcare.gov, presenting more health insurance plans than any other insurance resource in FL. TrueCoverage's search engine's simple technology aids you in effortlessly finding the best policy for you and your family.
TrueCoverage works as your impartial Florida insurance agent to help you navigate through the various choices, no matter what insurance carrier you ultimately choose. TrueCoverage is by your side every step of the way through your FL health insurance plan, ready to step in at a moment's notice if you have a dispute with your insurer.
TrueCoverage's agents understand the distinctive health insurance guidelines of Florida and every other state as well as the carriers from the mega brands down to the specialty small carriers.
The Top Health Insurance Companies in Florida
TrueCoverage knows that selecting a single Florida health insurance plan from our more than 50,000 different choices can sound like a daunting task. To help, we have listed some of the the top health insurance companies in FL per the National Committee for Quality Assurance (NCQA). Each insurance company's NCQA score is based on their consumer satisfaction, preventative care, and medical treatment options.
All ACA-compliant and Medicare plans have a star rating based on related criteria. The NCQA rates these ACA-compliant and Medicare STAR health plans as the GREATEST health insurance plans in Florida:
Blue Cross Blue Shield of Florida
Health First Commercial Plans
Cigna
Humana
 NOW is the perfect time to begin your search for your ACA affordable health insurance plan in FL.
 Connect with the health insurance experts at TrueCoverage now to find the most excellent cheap Florida health insurance for you, your family, and your small business.
Looking for cheap or even FREE health insurance in FL?
Shop online quickly and easily, 70 percent of our customers qualify for $0 policies!
The Bottom of the Nation
Florida ranks fiftieth in the United States as the worst state for percent of insured adults, with only 53 percent of adults between ages 18 and 64 having medical insurance.
Did You Know?
Florida is not the southernmost state in the United States, only Hawaii is farther south.
Source: 50states.com