Georgia Health Insurance
Affordable Georgia Health Coverage Options
Y'all, it is time for Health Insurance Open Enrollment for next year and there are cheap (and even FREE!) options for Georgians to take advantage of!
During the Coronavirus pandemic, the Affordable Care Act (ACA)'s premium tax credits (subsidies) were made even better! And those expansions may even become permanent within the current administration, so now more lower- and middle- class people than ever before are finding free or heavily discounted health insurance plans in Georgia (GA)!
The ACA offers Georgians a short window for Open Enrollment, during which ANYONE can apply for a health insurance subsidy to reduce or even ELIMINATE the cost of their Georgia health insurance. TrueCoverage is here with guidance and helpful information to help folks in GA like yourself select the best possible plan to fit you and your family's needs. Remember, if you do not take advantage of Open Enrollment you have to qualify in order to utilize a Special Enrollment Period later on during the year.
True Coverage offers a simple search engine that hunts the entire U.S. Health Insurance Marketplace in order to help you find the top GA Health Insurance plans out there. Pick from the best Georgia health insurance companies, including Kaiser, Blue Cross Blue Shield of Georgia / Anthem, Cigna, Alliant and Humana.
Your True Coverage agent will help you find the best health coverage packages for you, your family or your small business. TrueCoverage supports the people of GA in the pre-enrollment process to help you see what your health insurance subsidy amount (premium tax credit) would be. TrueCoverage is the health insurance expert for Georgia.
Beyond that, TrueCoverage also aids older folks in Georgia with moving to a Medicare Advantage plan or choosing the greatest Medicare Supplementals in GA.
Small Business Insurance in Georgia
The Small Business Health Option Program (SHOP) allows small business owners (with 2 to 50 full-time-equivalent employees (FTEs)) in Georgia to purchase qualifying coverage for your employees. But you also have the option, just as with individual health plans, to utilize a private insurance agent or broker like TrueCoverage. The average policy in GA carries just four to six workers. And, you will be eligible for business tax credits if you provide toward your workers' premium costs.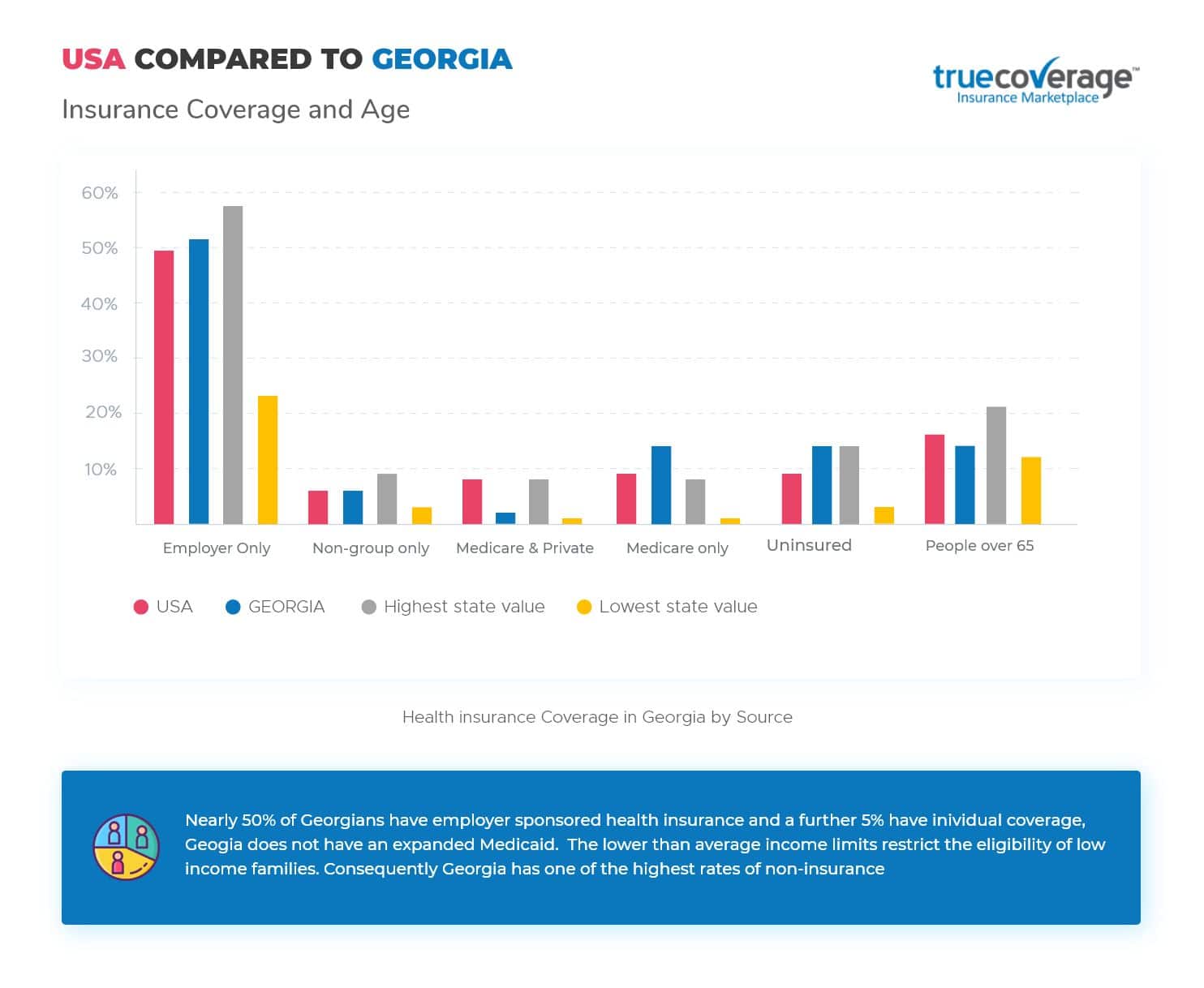 Looking at Affordable Health Insurance Options in Georgia
You might be surprised to learn that the cheapest health insurance in Georgia isn't always your best option. The health plan with the lowest monthly insurance premium (I.e., your monthly payment), is likely not the cheapest or best choice for your GA family for the long term. So, TrueCoverage can give Georgians accurate advice about which plans offer you and your family the peace of mind you seek at a price worth fighting over – not just financially but also emotionally!
It can be tough trying to figure out what Georgia health insurance plan is right for you. There are a ton of factors that go into the REAL total price, including deductibles and copays as well as co-insurance rates! Luckily you can use the metal tier rankings to show which plans offer the better value based off their prices. Trying to figure out if your new Georgia ACA health plan is the perfect fit for you and your family? Let TrueCoverage walk through each factor first: the more expensive options might seem cheaper in the long run because they charge higher premiums but lower costs, but this only matters if you utilize the benefits paid for.
The GA Health Insurance Marketplace offers "extra savings" opportunities or cost-sharing reductions (CSR). These discounts lower the total amount you pay for health insurance deductibles, copayments, and coinsurance. These benefits can help Georgians who need medical care but cannot afford it at full price because of their income or other unexpected expenses.
Premium tax credits are a great way of saving money on your healthcare costs, regardless of the metal tier plan you select. But the Silver plans in Georgia are the ONLY healthcare plans that have the CSR "extra savings." Georgians using CSRs will additionally have a lower annual out-of-pocket maximum. Meaning that, once you reach your out-of-pocket maximum, your insurer pays for 100 percent of the covered services.
Key Details about Health Insurance in Georgia
Georgia also safeguards customers from surprise billing
Self-employed married couples in Georgia can buy "small group" coverage to save money
Despite these advantages, Georgia Health Insurance is more expensive than in most other states.
Georgia is one of the rare remaining states that has not expanded Medicaid
The ACA eliminated loopholes and mandated that all ACA-qualifying plans in Georgia include ten key health services.

Before the Affordable Care Act became Federal law in Georgia, insurers could refuse to cover various health benefits, resulting in overwhelming medical debt for many in GA.
Exploring the Health Insurance Marketplace in GA
Georgia residents can enroll in health insurance plans through private insurance exchanges. These marketplaces offer more ACA-compliant plans than the state of Georgia.
Through Health Insurance Exchanges, you gain access to additional ancillary insurance options such as:
Dental
Vision
Accidental Death
Critical Illness
Disability
Life
Medicare Advantage
Medicare Supplemental
And more
Why work with a Georgia Health Insurance Broker?
TrueCoverage is a Certified Enhanced Direct-Enrollment (EDE) Partner of  Healthcare.gov, presenting more healthcare plans than any other insurance source in GA and our unique technology quickly delivers the best value insurance policies for you and your family!
TrueCoverage is an unbiased agent here to find you the best Georgia health insurance options, no matter what insurance carrier. True Coverage cares about our customers and is here for you and your family throughout your GA health insurance contract and can step in to help if you were to have a dispute with your insurer.
Our agents understand the unique healthcare insurance rules of Georgia and TrueCoverage is familiar with health plans from the biggest carriers down to the smallest specialty insurers.
Looking for cheap or even FREE health insurance in GA?
Shop online quickly and easily, 70 percent of our customers qualify for $0 policies!
Did You Know?
Georgia's uninsured rate of 12.9 percent made it the fifth worst in the country as of Jan. 2019, according to the GA Budget & Policy Institute.
Fun Fact
GA is named for King George II, who approved the colony's charter in 1732, The Peach State, as Georgia is affectionately known, became the fourth United State in 1788.
Georgia is the nation's number one producer of the three Ps: peanuts, pecans, and peaches.
Source: 50states.com