North Carolina Health Insurance Plans

Affordable NC Health Insurance Options
Open Enrollment is fast approaching North Carolina with cheap and sometimes even free healthcare plan options for middle-class families.
North Carolinians have faced additional stressors due to the COVID-19 pandemic, like much of the U.S., to aid with that, Congress immensely expanded the benefits of the Affordable Care Act (ACA). While this move was deemed temporary for the pandemic, these expanded enhancements to the health insurance subsidies (premium tax credits) and cost-sharing reductions are thought to likely be made permanent in the coming years.  As a result, more middle and low-income families in NC than ever before can obtain affordable ACA-compliant health insurance plans that are cheap or even free!
The ACA Open Enrollment Period is your opportunity to take account of any changes in your circumstances from last year. The changes made by Congress may have increased your entitlements. Your experienced TrueCoverage health insurance advisor can help you to maximize your savings. During Open Enrollment, you can ensure that you and your dependents have the best plan available on the North Carolina marketplace.  Don't miss the chance to enroll during the NC Open Enrollment Period. Open enrollment is the only time you can join a new plan and claim your premium tax credit and cost-sharing reductions each year, unless certain key events (e.g., pregnancy or losing your job), entitle you to a Special Enrollment Period.
TrueCoverage is an easily accessible health insurance expert in North Carolina. Our user-friendly search engine will comb the NC Health Insurance Marketplace to help you select the best health insurance coverage. Choose from the many top NC health insurers, such as Ambetter of North Carolina, Blue Cross Blue Shield of North Carolina, Bright Health, Cigna, and Oscar.
What was the right the right health insurance plan for you last year may not be your best choice for 2022; now is the time to consider your health insurance needs and find affordable health insurance in North Carolina for the coming year. It is essential to choose the plan and provider that offer you and your dependents the best value. Working with TrueCoverage you can ensure you choose the right plan and that you are claiming all your premium tax credits (subsidies) and cost-sharing reductions. We can help you find cheap, even 'free' health insurance in North Carolina.
The TrueCoverage team is here to help folks in North Carolina. We provide a pre-enrollment process to get you through all the details. We calculate the amount of your premium tax credit (health insurance subsidy) so that you can make an accurate comparison of your options. TrueCoverage is the health insurance expert for NC residents and will aid you in finding tailored health coverage packages for you, your family, or your small business.
Or, if you already qualify for Medicare or will turn 65 in the coming year, TrueCoverage offers even more expertise to North Carolina. We make it easy to find the Medicare supplementals or Medicare Advantage plan that will help you minimize your healthcare cost.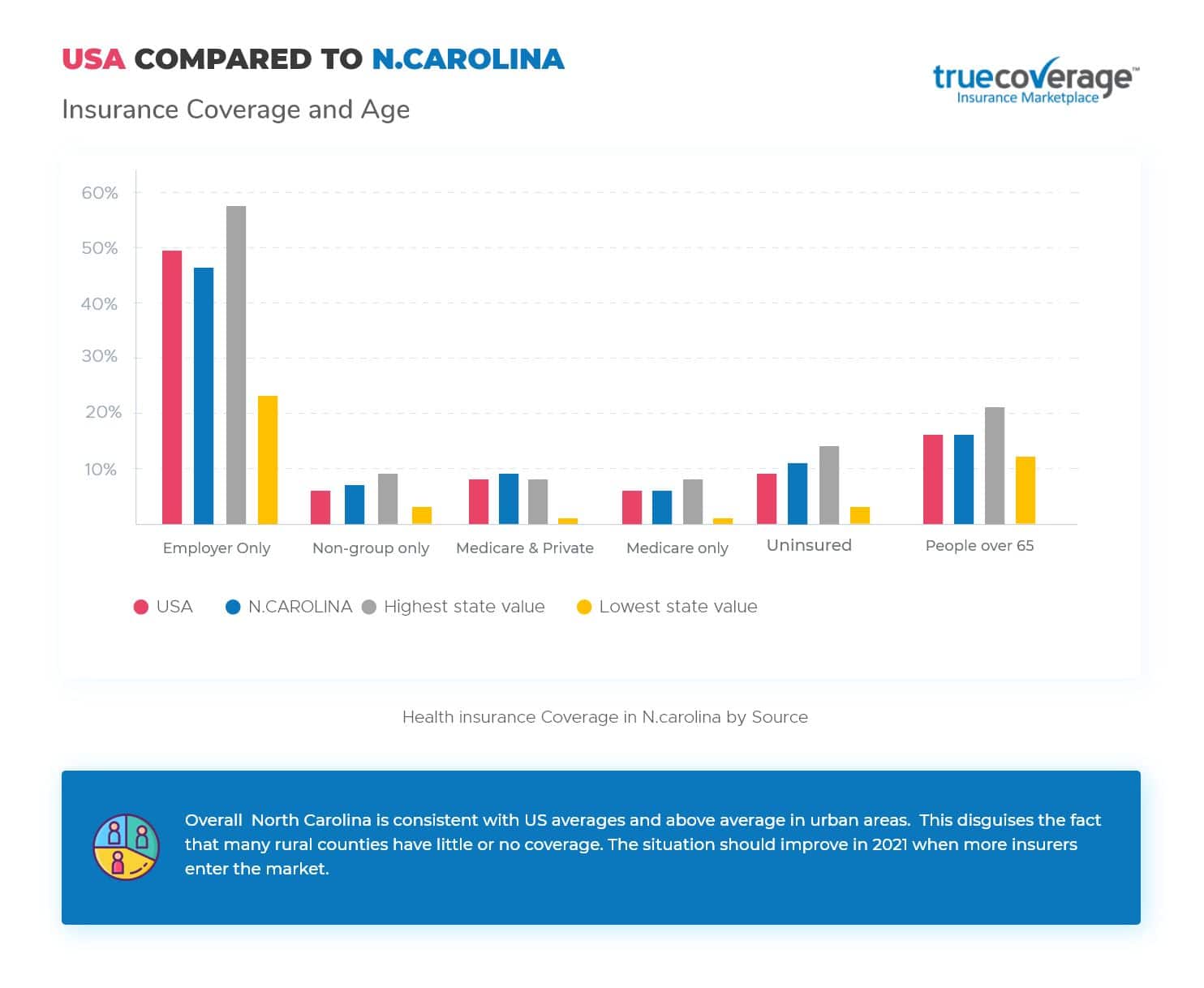 Exploring Affordable North Carolina Health Insurance
If you are shopping for the cheapest health insurance in North Carolina, you should first understand that policies with the lowest monthly insurance premium might not be your cheapest or best option in the long run.
Finding the actual overall price of your NC health coverage depends on many variables such as deductibles, coinsurance, and copays, which increase costs. Then discounts like premium tax subsidies can lower your medical expenses. All ACA compliant plans have a metal tier ranking to assist you in selecting the North Carolina health insurance plan.
The NC Health Insurance Marketplace offers cost-sharing reductions (CSR) that are "extra savings" opportunities. Discounts that lower the total amount you pay for health insurance deductibles, copayments, and coinsurance
Premium tax credits apply to any metal tier category but the Silver plans are the only North Carolina plans that receive cost-sharing reductions. If you utilize CSRs, you will also receive a lower annual out-of-pocket maximum. Once you reach your out-of-pocket max, the insurance carrier must cover 100 percent of the covered services.
Key Details about Health Insurance in North Carolina
Exploring the North Carolina Health Insurance Marketplace
North Carolina residents can sign up for health insurance using private insurance exchanges. These marketplaces offer a wider variety of NC ACA-compliant health insurance plans.
Through Health Insurance Exchanges like TrueCoverage, North Carolinians can access even more ancillary insurance options like:
Dental
Vision
Accidental Death
Critical Illness
Disability
Life
Medicare Advantage
Medicare Supplemental
And more!
Benefits of Working with a NC Health Insurance Broker
TrueCoverage is a Certified Enhanced Direct-Enrollment Partner of Healthcare.gov.  
Using our simple search engine, you can quickly find the best policy to fit your North Carolina health insurance needs. With more than 600 carriers and 50,000 plans to choose from, TrueCoverage is the largest health insurance resource in NC.
Our brokers are here to help you find the best health insurance option for you, your family, or your business, without bias to any particular insurance carrier. TrueCoverage brokers are here to help meet the needs of North Carolinians. And, TrueCoverage is by your side throughout your NC health insurance contract in case of a dispute with your carrier, ready to step in to assist you.
TrueCoverage's agents are knowledgeable about North Carolina's unique health insurance laws and regulations. TrueCoverage knows the health insurance options in North Carolina for your largest carriers down to the smallest specialty health insurer.
Looking for cheap or even FREE health insurance in North Carolina?
Shop online quickly and easily, 70 percent of our customers qualify for $0 policies!
Did You Know?
In 2018, there were more than 1 million uninsured nonelderly individuals in NC, making the uninsured rate in the state 12.9 percent higher than the uninsured rate for the U.S. overall.
Fun Fact
In 1903, the Wright Brothers made the first successful powered flight by man at Kill Devil Hill near Kitty Hawk, NC.
Babe Ruth hit his first home run in Fayetteville, NC in 1914.
Source: 50states.com